Now, I LOVE Mabel's Label's and I LOVE Scholastic Books and this promotion makes me a very, very happy mama!  Buying labels (that last forever and don't fall off, unless picked at incessantly by small children like my own). that you were going to buy anyway (because kids have to have their name on EVERYTHING to go anywhere these days) and you get FREE BOOKS!  Plus there's a sweepstakes and you could be one of 10 to win the BIG KABOODLE Combo pack from Mabel's!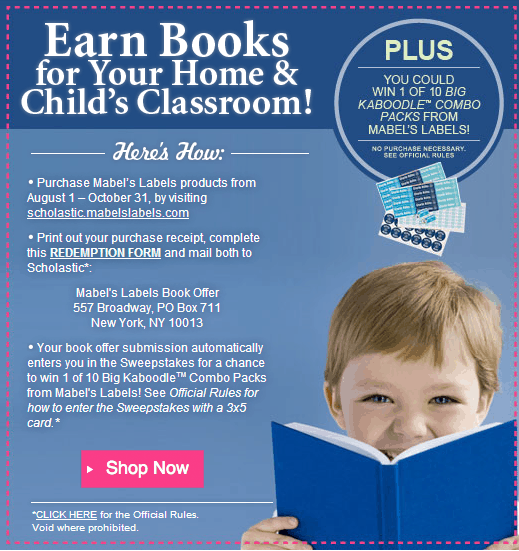 To Qualify: Spend at least $30 on mabelslabels.com from Aug 1 – Oct 31
Entering: Mail Scholastic your purchase receipt and completed redemption form (click here or above image)
What they Get: 1 free age-appropriate Scholastic book for home and 1 free book for  classroom/daycare center
Sweepstakes portion: Ten (10) winners will receive "The Big Kaboodle™" combo pack.
Program ends: when 2,400 books have been awarded or by Oct 31
Official Sweepstakes Rules
I actually NEED some new labels so I just may be getting myself a free book tonight!

0