When Good Cook sent some of their nonstick cutlery to us, I knew I wanted to try them because-well, to be honest, I liked the colors, and I found the idea of nonstick to be intriguing.  I like the knives because they are fun, vibrant colors, and each comes with a matching sheath to protect fingers when grabbing. That means I can keep them tucked away in a drawer and not worry I'm going to slice my fingers when looking for something else (I'm NOT the only one who does that, right?) The color "coding" makes it simple- yellow knife, yellow sheath.  Purple knife, purple sheath.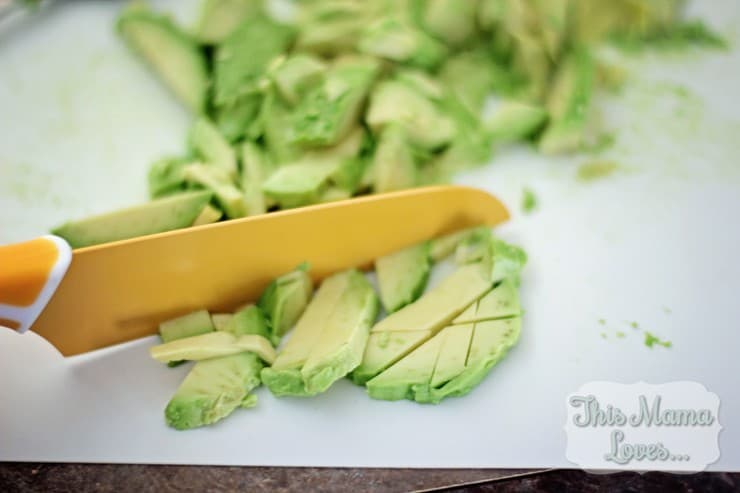 These knives cut through avocado like nothing. It's marvelous. I mean, I have sharp knives, but nothing non stick.  It's a different experience to cut with these.  Definitely going to use them for stickier foods from now on!  The bread knife is officially my favorite knife to slice fresh baked bread with, because the bread just falls away from it.  Normally I make a huge mess slicing bread.  Now I just have the huge mess I make while MAKING the bread, but not from slicing.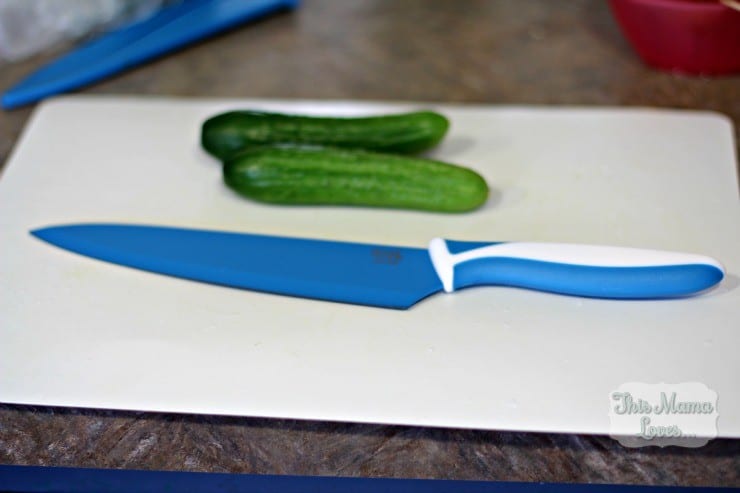 I've been using the Nonstick Chef's Knife a lot- makes fast work for me with veggies, especially root veggies.  The handles are ergonomic so they don't slip and slide around on me (can you tell that I'm kind of clumsy yet?)
These knives are just plain fun. The nonstick is something I've not had before with knives and I wasn't sure what I'd think. I do like it. I really like that I don't have to scrub and scrub to get raw meat or sticky foods off of the blades.  I hate scrubbing knives and I'm clumsy so I tend to have incidents when I do.  ** Please note, as fun as these LOOK, they are not kid-friendly. They are super sharp.
I used the Good Cook Nonstick Santuko Knife when I was cutting the avocado for my Egg, Jarlsberg and Avocado Breakfast Cups.  Made very short work of things, and super, super easy to clean up.  Prices range from $14.99 to $29.99 so they are totally affordable.  Wouldn't a set of these be such a fun shower gift, or housewarming gift?
These nonstick-coated knives come in inviting colors for ready access—the bright coding signals that purple is for sandwiches, green is for paring, etc. The serrated blades are crafted from high-carbon steel, which stays sharp through regular use. The nonstick coating prevents crumbs from sticking. Each knife includes a safety sheath to help protect the blade and allow for safe storage. The soft-grip, ergonomic handle fits comfortably in the hand and provides better control when slicing and when hands are wet.

***Save  30% off these knives as well as your entire order at www.goodcook.com with promo code: NONSTICK. Offer valid through April 15, 2013.***
One reader will win a set of Good Cook Nonstick Knives valued at $125! 
I received a set of these knives for my review.  Opinions are my own.
0