Now that the weather's been nicer (finally!!) we've been outside more and more each day.  The kids are filthy and exhausted at the end of each day, and honestly, so are we parents. We've been doing a lot of landscaping work out of necessity because we had to remove 24 trees this past fall/winter for safety issues.  So the kids have been helping us some with our projects, but playing outside being kids is what they should be spending most of their time doing.  It kind of made me think about what the favorite toys are for all of them to use- and so often people wonder what to get kids for playtime, vacation time, birthdays, etc. that I thought I'd put together a list of ideas.  Now, my kids are between the ages of 3-7 but many of these can work for all ages, or a variation of it.
Sidewalk Chalk: Draw, color, outline, start/finish lines for "races, hopscotch- there's a ton of things you can do with sidewalk chalk.  For the adventurous, there's DIY chalk recipes all over Pinterest– and there's also sidewalk paint!   Hours of fun and very easy to tote around.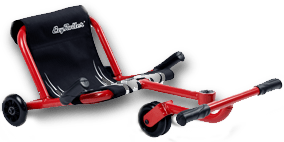 Something on wheels.  A bike, a scooter, an Ezy-Roller, something, anything on wheels.  Wheels can be fun, and they offer exercise.  They can also be used with the sidewalk chalk to do races and race tracks if space allows.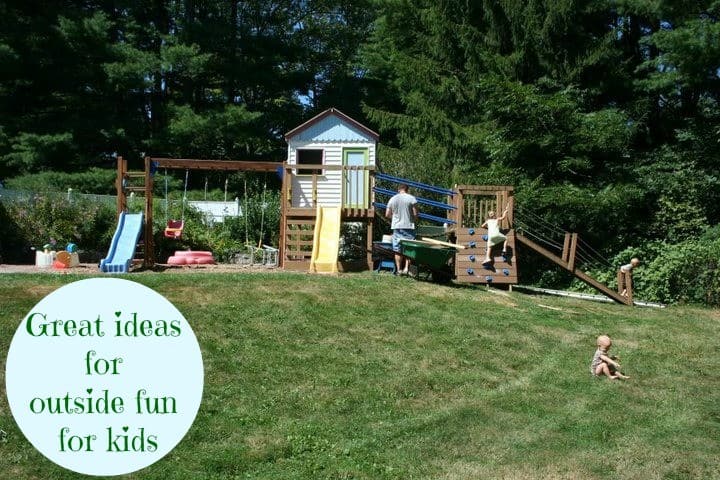 Something to sit, sleep, climb, rest, nap, dream in.  This could be as simple as a homemade tent with an old sheet, a teepee, a playhouse, a swingset, a ship- or a bench tucked away in a corner of the yard.
Bubbles.  Make your own (my recipe for DIY bubbles) or buy them- sometimes my kids do bubbles for the fun of it and other times, they use bubbles as part of their imaginative play.
Balls.  Big, little, hard, soft.  Balls can be fun.
Stuff to do- hula hoops, frisbees, skip it, croquet, bocce- I like to do hula hoops and frisbees because they can be used for the intended purpose but double as other things.  Hula hoops, for example, can be used to jump in and through.  They can be used as "base" when playing tag.
Water.  Big, small, doesn't matter.  Water play is FUN.  Water balloons, slip n slide (can you believe I've never had one of those? Never, not ever?  Deprived kid here), kiddie pool, water table, plastic shoe box on the ground…swimming pool.  Water is fun, it's a neat medium, and you can use it to cool off, splash in, throw around, wash toys, etc.
There are lots of great ideas for outdoor toys at Big W – what are YOUR favorite things to do outside? 
0