With 47 days until Christmas, and just 3 weeks until Thanksgiving,  it's time to start thinking about all of those details….your calendar, when to shop, when to wrap, when guests are expected to arrive.  We all want to be prepared, right?  For ourselves, and for guests?  Suave helps us to look good, feel  good everyday with products for everyone in the family for a great value! (My apologies for how many days until Christmas. It had to be done, but just this once, ok?)  Suave® products are available at Walmart so you can get the best value locally.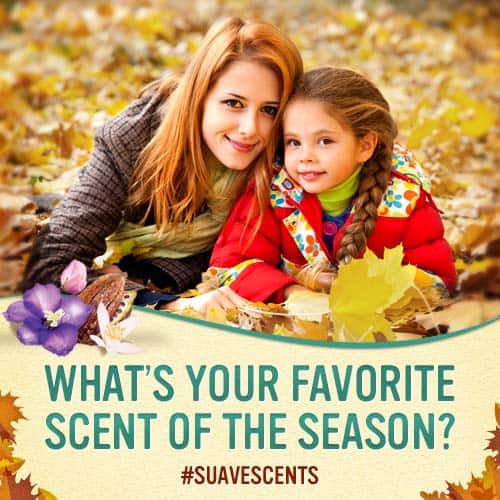 Discover Suave® Scents
Suave® Naturals offers a variety of delicious smelling body washes and body lotions perfect for this holiday season! Have guests coming into town? Stock up the bathroom with Suave® to make them feel right at home.
The holidays are all about different scents – pumpkin pie, fall foliage, turkey dinners – each smell brings up different memories of the holidays. My grama has been gone for almost 9 years and lived in a nursing home for several years before she passed- and any container or bar of pink soap brings the memories flooding back in a heartbeat.  Apple, spices, cranberry- those to me are the scents of autumn…when the air turns cooler and family looks toward one another for togetherness after being outdoors and apart for so much of the summer .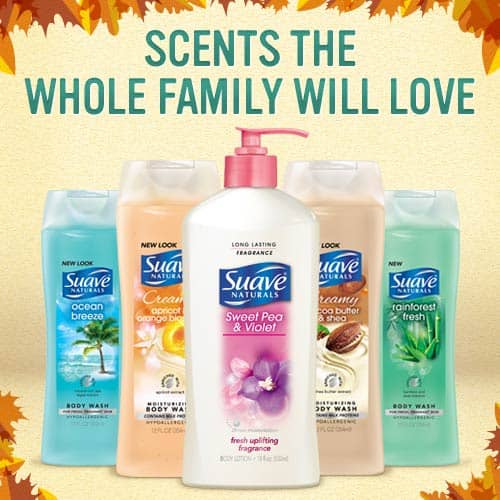 Shop all Suave® at Walmart for the best value! Head in-store or online to shop for all Suave® products at the best value!
So I ask you, my friends- what are your favorite holiday scents? Do you have guests coming over the holiday season?
 We have a Suave Prize Pack for 2 winners!!  Winner chooses a kit for him or for her. Each kit will include:

For her:
Suave Sweet Pea & Violet Body Lotion
Bath Loofah
Spa Robe
Suave Sweet Pea & Violet Body Wash
Scented Candle
$50 Walmart gift card

For him:
Suave Men 2-in-1 classic clean anti dandruff shampoo + conditioner
Razor
Fresh towels
Toothbrush + toothpaste
$50 Walmart gift card
0