This guest post is brought to us by Erika over at Lilies and Sunflowers.  (You should check out her blog, she has an amazing giveaway ending tomorrow!!)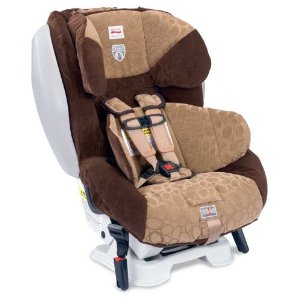 Boosters are for Big Kids
With the start of school coming up many kids are going to start spending more time in cars again, whether their own or in carpools. Unfortunately, many of these kids will not be traveling safely. While carseat and booster seat laws vary by state, the best usage practices to keep your kids as safe as possible are the same everywhere.
Booster seats that use the seatbelt to hold the child in place, whether highback or no back, are for big kids. 2, 3 and many 4 year old children are really too young to use a booster seat appropriately and should remain in a seat with a 5 point harness as long as their shoulders are at or below the strap slots and they are not over the weight limit. There are many affordable, higher-weight harness seats on the market now if your child outgrows their current seat before being able to move safely to a booster.
Most kids will need to use a booster seat from the time they move into it around 4,5, or 6 until they are 10-12. Seatbelts are designed for the average adult and do not fit a child appropriately until they are about 4'9" tall. A smaller child in a crash could be injured by an improperly positioned seatbelt across their abdomen or neck. They are also more likely to put the shoulder belt behind them, resulting in serious abdominal and head injuries.
To determine if you child is tall enough to move out of a booster seat, try the following 5 step test.
Does the child sit all the way back against the auto seat?

Does the child's knees bend comfortable at the edge of the auto seat?

Does the belt cross the shoulder between the neck and arm?

Is the lap belt as low as possible, touching the thighs?

Can the child stay seated like this for the whole trip?
If the answer is no to any of these, the child needs a booster seat to be the safest he can be in a crash. A child close to 4'9" may need a booster in one vehicle but not another based on seat height, angle, and seatbelt position, so try the test in all vehicles they ride in.
While no back boosters may be convenient for carpools, being small and easy to move between cars, ensure that the shoulder belt is in the correct position if you are using one with a younger child. They may require a high back booster to correctly position the shoulder belt. A high back booster is also a better choice for children who tend to sleep in the car as it provides them a place to rest their head and keeps them from slouching out of position or leaning against the window (especially dangerous in vehicles with side curtain airbags).