It's T-shirt time again! I love to stock up on tshirts this time of year.  I buy a slightly larger size so that I can layer in the cool weather, then transition into the summer.  It's a great bang for your buck!
The problem is finding cute and unique tshirt choices. Hank Player, offers a great selection of t shirts for babies, boys, girls and men.
"Shop the Hank Player Campus Store for the perfect gifts and novelty t-shirts for infants, toddlers, boys & men. Due to popular demand, Hank Player is proud to present our new collections for girls, Hank Player GRL! Proudly made in the USA, Hank Player's hip graphic tees for kids of all ages are vintage washed for a super soft feel. Free shipping on all orders over $50."
Hank Player offers a ton of cute and unique graphic t shirts and tshirt hoodies.  All of their items are quirky and sure to catch some attention.  Your little one will look so cute going to school in these little t's.
I tried out the "We Come In Peace" hooded T.  My 6 year old loves this t shirt (even if he doesn't know what space invaders is).  I ordered his typical size and found that the hoody ran a little large, but did shrink a little with washing, so it worked out perfectly.  My 3 year old tried the short sleeved Lacrosse t shirt.  This shirt ran true to size and worked great for layering.  I love the vibrant blue color of this tshirt.  I found the tshirts to be nice and soft, and they seem high quality.  They wash well and make a great addition to our spring wardrobe.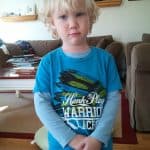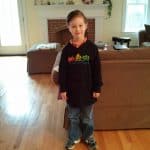 All you bargain hunters out there, enter SAVE25 at checkout to receive 25% off your order!!!
One lucky reader will win a t shirt on their choice!!! (based on availability, US only).
"A sample of this product was provided to facilitate my review.  All opinions expressed are my own."
0