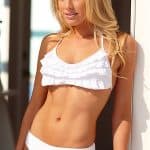 It is officially June, which means it's time to start shopping for your bathing suit!!!! I am constantly on the lookout for fabulous swimwear and a great value. Have you heard about Hapari's Fashionable Swimwear yet? They offer the best of both worlds!!!! They have fantastic bathing suits for women, men and juniors that are SOOO reasonably priced. Bikini tops are priced around $32 and bottoms around $28!! I love how these pieces are sold separately so you can get creative and mix and match pieces.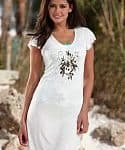 Here's a little more information about Hapari:   Hapari Swimwear enhances the curves you love and hides the curves you don't. We make modest swimwear and tankinis that are stylish and comfortable for all body types. With Hapari's new line of tankini swimwear we've improved upon the things women have traditionally disliked about modest swimsuits. Using our special style tabs, most tankini's can be worn 3 different ways; halter, tank and criss cross. Women's swimwear is our specialty. Shop figure flattering tankinis, one piece swimsuits, bikinis, and bottoms. We have the perfect swimwear for you!   I am particularly in love with this ruffled white bikini! I love how the ruffles are subtle, but yet provide a little extra coverage. This pasty white girl has been dying to try out a white bikini and this is the year I go for it! Tankinis By Hapari are also come in some fabulous designs and offer a little more coverage. They also offer super cute cover ups and men's board shorts. I can shop for swimwear for my entire family in one stop without breaking my budget!!!!! My entire family is going on a beach vacation next month and I just can't wait to try out these styles!

I am so excited to offer an $85 gift card to one of our readers. This will really go far!!   One of our very lucky readers will win an $85 gift card to Hapari!!!!!!
Javascript must be enabled to enter this giveaway. Learn how to activate Javascript by
clicking here.

Loading Entry-Form
// I will receive a promotional code to Hapari to thank me for taking the time to post this. Opinions are my own.