It's December.  Life is HECTIC for almost everyone.  Regular life activities, but also? Holiday shopping, baking, wrapping, gifting, visiting and celebrating on top of day to day activities.  It's fun and it's wonderful but it can also be oh so very stressful. Even finding places for friends and family to sleep when they come over the river and through the woods- what if Grandmother's house doesn't have enough beds?Thanks to Country Inns & Suites for sponsoring this post.  Horribly corny revisions of the beloved Christmas poem are my own.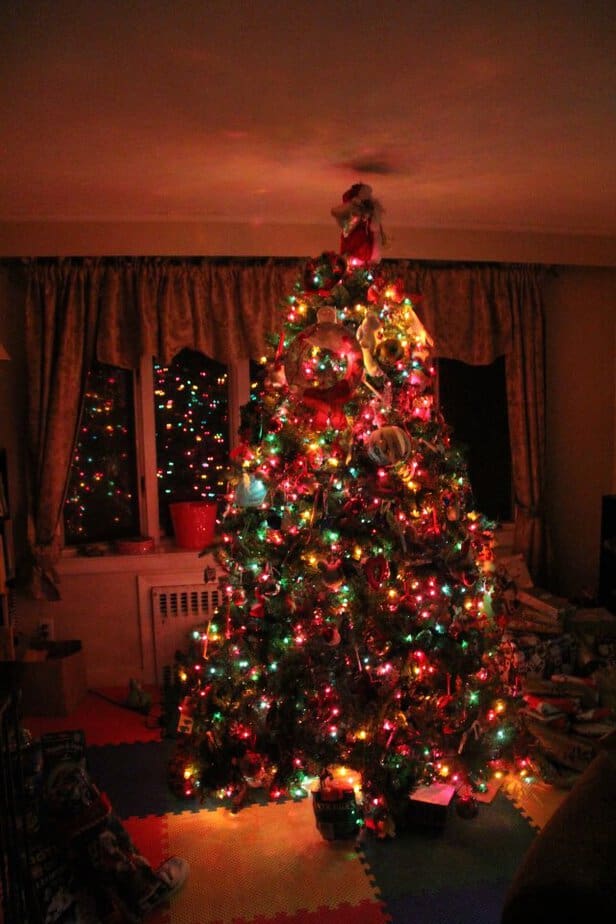 The horse may know the way to carry the sleigh but if there aren't beds to sleep in, Grandmother's house may not be the best place to get a good night's rest. That's where Country Inns & Suites come in.  They want all of us to have Happier Holidays & Nights and they are offering a 4-night stay PLUS a $300 gift card to a lucky person who uses the #HappierHolidaySweeps on Instagram or Twitter. Actually, it's to 25 lucky Grand Prize winners, but who's counting? 🙂 Thanks to Country Inns & Suites for sponsoring today's post.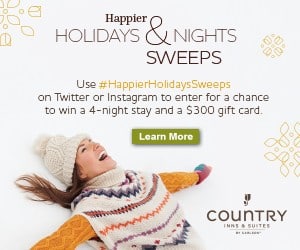 Listen, we all want to have the ideal holiday memories. Life isn't like the movies, and there aren't always perfect arrangements.  When there aren't- at least you have places like Country Inns & Suites to head to…unless you want Clement Clarke Moore's works to be rewritten as follows:
The relatives were not quite nestled all snug in their beds

While visions of Sugarplums danced in their heads
And 'Ma in (ust) her kerchief and I in (just) my cap
knew without help there'd be not a soul to nap…

When out on the roof there arose such a clatter,
it was Aunt Bev yelling at John to pitch that tent flatter
Away to the window I flew like a flash,
tore open the shutter, in time to stop the crash…

The moon on the breast of the new-fallen snow
gave the lustre of midday to objects below,
when, what to my wondering eyes should appear,
but a miniature Cabriolet and eight tiny horsepower-deer.
With a little old driver, so lively and quick,
I knew in a moment it must be St. Nick.
More rapid than eagles, his relatives they came,
and he whistled and shouted and called them by name:

"Now David! Now Dana!
Now, Parker and Vincent!
On, Carla! On, Cupid!
On, Donny and Franklin!
Don't sleep on our porch!
Or lean against the wall!
Now dash away! Dash away!
Dash away all!"

As dry leaves that before the wild toddlers do fly,
when they meet with an argument, threw that last pie
so up to the Country Inns & Suites the relatives they flew,
with the sleigh full of toys, and St. Nicholas too.
Don't have unhappy holidays.  Book rooms at Country Inns & Suites and leave 'Twas the Night Before Christmas the way it should be. If you and Grama don't have room for people who come over the river and through the woods, book them at Country Inns & Suites.  Better still, enter to win the #HappierHolidaysSweeps and WIN that stay!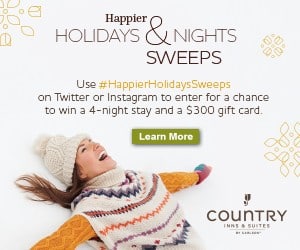 How do you enter? Official stuff below
By posting #happierholidayssweeps hashtag on Twitter or Instagram- or via registration form– entrants will be entered for a chance to win. (Or all 3, each day, one per entry method (Reg. form, Instagram and Twitter)
Registration in specific states and/or countries: is open only to legal residents of the fifty (50) United States, the District of Columbia, and Canada (excluding Quebec) who are at least twenty-one (21) years old at the time of entry.
Program Period: 12/1/2014 @ 12:00:00 P.M. CT – 12/22/14 @ 11:59:59 A.M. CT
Prize(s) and Values: There will be 25 Grand Prize Winners for the entire program period. Each Grand Prize Winner will four (4) free nights at a Country Inns & Suites location, and a $300 gift card.