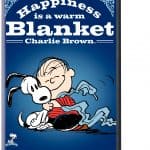 I love Peanuts specials.  Always have.  As a child, they were aired but once per year, and it was a family event at our house.  Now, of course, you can purchase them on DVD and enjoy them at anytime, which is nice- because I can share them with my kids over and over again.  There's just *something* about the Peanuts gang that draws you in- and I'm not sure I've ever met anyone in my travels who cannot imitate what an adult sounds like on any Peanuts special…
Happiness is a Warm Blanket, Charlie Brown, is a new Peanuts special, the first new special in 5 years.  Linus is faced with a dilemma- give up his beloved blanket before his grandmother arrives for a visit, or she'll get rid of it for him.  The Peanuts gang all try to help Linus to get rid of his blanket- with the exception of Charlie Brown, who can't deal with seeing his friend so upset.  Lucy uses her psychiatry skills to help…and there's more, of course…but you'll see that as you watch the special. 
The camera work has a more modern feel in this special, although the familiar comic strip friends, colors, and objects have that famous Peanuts look and feel to them.  I like it.  But, I guess I'm biased, because I love Peanuts stuff.  You can watch it as a family!!
In this heartwarming new tale, Linus is pushed to his limits when he learns his grandmother is coming to visit and plans to rid him of his most cherished possession, his beloved security blanket. As grandma's impending arrival looms closer, the Peanuts gang finds ways to try and help Linus lose his dependence on his fuzzy crutch.

Lucy is particularly eager to cure Linus' emotional attachment and applies her own psychiatric techniques. Charlie Brown on the other hand does his best to help but he just does not have the heart to see Linus suffer. Snoopy constantly agitates matters because he longs to have the blanket himself. In the end, insightful Linus points out that everyone has their own type of "security blanket" and that in life, a little security is a valuable thing.

Happiness is a Warm Blanket, Charlie Brown is comprised of original comic strip ideas created by Charles Schulz. The concept was to stay true to the characters' emotion and original look of the strip while still producing a new story, with Schulz's work at the heart of the program. 

Craig Schulz, son of the Peanuts creator, served as one of the executive producers and writers of the film along with Stephen Pastis, who wrote the special as well.  Happiness is a Warm Blanket, Charlie Brown was also executive produced by Paige Braddock and Linda M. Steiner and was directed by animator Andy Beall (Up, Ratatouille) and Frank Molieri (The Simpsons Movie, SpongeBob SquarePants Movie).

One of my readers will win a copy of this for their Peanuts collection!
Mandatory Entry: Tell me which Peanuts special is your favorite!
Extra Entries:
Follow my blog publicly via GFC, Facebook, RSS/Email subscription or Twitter (+1 entry each)
Share this giveaway on any social networking site: I hope I can #win Happiness IS a warm Blanket, Charlie Brown from @mamatomjr http://wp.me/p1qA6G-15W (can be done 2x/day per site, at least 1 hour apart)
This giveaway will end on April 23, 2011 at midnight, EST.  Winner to be chosen using "And the Winner is".  US only.  Winner has 48 hours to respond to initial contact or a new winner will be chosen. 
I received a sample of this product to facilitate my review.  Opinions expressed within are my own.
0