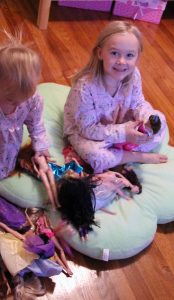 HearthSong toy catalogs offer quality children's toys, games and crafts. They offer products for boys and girls designed to encourage creativity, active play, inspire curiosity and imaginations and more.  That's what got me to check HearthSong for kid room decor ideas!
We just finished re-doing both the kids' bedrooms.  What started as a simple "if we move the girls in the other bedroom, they'll have the bigger closet" snowballed into painting, furniture purchasing, refinishing, bedding, window treatments, wall decor and more.  Nothing's ever simple, right?  It was time, and it's nice for the kids to have rooms that were planned for them and purposeful, that have function and are aesthetically pleasing.  One thing we have not found- or rather, hadn't found until I stumbled up on HearthSong's Flower Pillow, was floor coverings.  We have all hardwood in our home, except the bathrooms and breezeway, and quite recently, the master bedroom.  We did have some (ugly and ready to go) area rugs in the kids' rooms but they were cheap and looked it.  I want to make the kids' rooms warm and inviting so they will love being IN their rooms like I love to be in mine!! (I am STILL looking for something for my son's room- greys, blues and Batman abound in there).
In the girls' room, we have a dollhouse bookcase my husband designed and built for them.  They play oh so very much with dolls- mostly baby dolls, but sometimes with Barbie dolls…or ponies.  They love to read books together, too.  I needed to find something cute, fun and comfortable that might cover the floor AND work for seating, because we have limited space.  The Flower Pillows are beyond perfect.  I love them so much I have a second one on its way to us – the girls love them too!! Comfy, fun, cheery (and a great cushion to put aside the lower bunk for my 2 year old just in case she decides to fall out of bed).
One of my readers will win a $50 HearthSong gift card!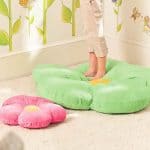 a Rafflecopter giveaway

I received a sample of this product to facilitate my review.  Opinions are my own.
0