My 5 year old and I have been bonding over hard surfaces lately- in our Heelys!  Busy got the "Sparkler" HX2 and I got the "Jazzy" HX2 for our review.  These are so much FUN!  We don't have sidewalks where we live so our space to use them is limited to our patio out back and our driveway, but honestly, that's right about at both of our skill level and we've had so much fun we don't mind at all.  Someday we'll move on to bigger spaces, perhaps.  We'll see.
The Sparkler Heelys that my girl got to try are adorable.  Fun and easy to use- great for little kids.  She can tie but the velcro closure makes it a lot quicker for her to get these on and off of her feet!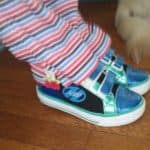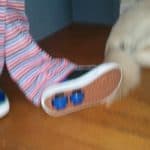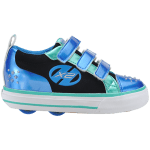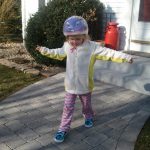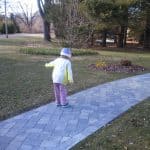 Please note the adorable model, but check out the Heelys while you admire her cuteness. 
There aren't pictures of me in my "Jazzy" Heelys because I can't photograph myself and the sight is far too scary and hilarious for my husband to get a shot.  I'm in between sizes and should have ordered another size down so I have to double up on socks with these (they run LARGE so keep that in mind!) but they work great.  I feel a lot sturdier on these than roller skates, but still feel like I can roll and glide as if I was on roller skates. 
What I like so much about both of the pairs of Heelys that we were sent is that they have 2 wheels, hence the HX2 in the names.  I feel like both Busy and myself have a better chance of staying upright with 2 wheels instead of 1.  I also like that you can take the wheels off of the Heelys and pop them in your bag without having to do a whole shoe change. 
Not sure how exactly to USE Heelys?  They have some great videos (including SAFETY videos, which I encourage everyone to think about!) on their site- I can't embed it here but worth checking out.  This was a huge help for me, the non-clumsy lady, and my 5 year old, so she could see someone show her how to use these properly that wasn't her mama (Learning to do things like this tends to make me very, very giggly and therefore, unable to be, well, functional for a while!!) and she was able to see and hear for herself how important doing this safely is. 
I'm glad Heelys is expanding their sizes so that adults can join the kids in the fun!   Want to buy some?  ShopHeelys.com has Heelys and you can find online and instore locations here.
I'm also glad to tell you that Heelys is going to send one of my readers a pair of Heelys!
Mandatory Entry:
Leave a comment with your name and be sure to include a valid email address in the form or I cannot contact you if you'd won. 
Extra Entries:
Visit Heelys and tell me which pair you'd like to try! +1 entry
Like Heelys on Facebook
Follow me on GFC, Facebook, Twitter or RSS/Email Subscription (+1 each)
Leave a comment on any non giveaway post +1/post up to 5 comments
Share this giveaway on any social networking site: #win a pair of #Heelys from @Heelysworldwide and @mamatomjr http://wp.me/p1qA6G-1sS (can be done 2x day at least 1hour apart)
This giveaway will end on May 17, 2011 at midnight, EST. US only. Winner to be chosen randomly. Winner has 48 hours to respond to my email or a new winner will be chosen.
I received a sample of this product to facilitate my review. All opinions expressed are my own.