Ask my kids what happens before mommy has coffee in the morning.  All three will tell you that NOTHING happens before mommy has coffee.  I've often heard whispered conversations trying to figure out if I have indeed had any or all of my first cup of coffee, or if the question is better left unasked until later.
I wasn't always this way.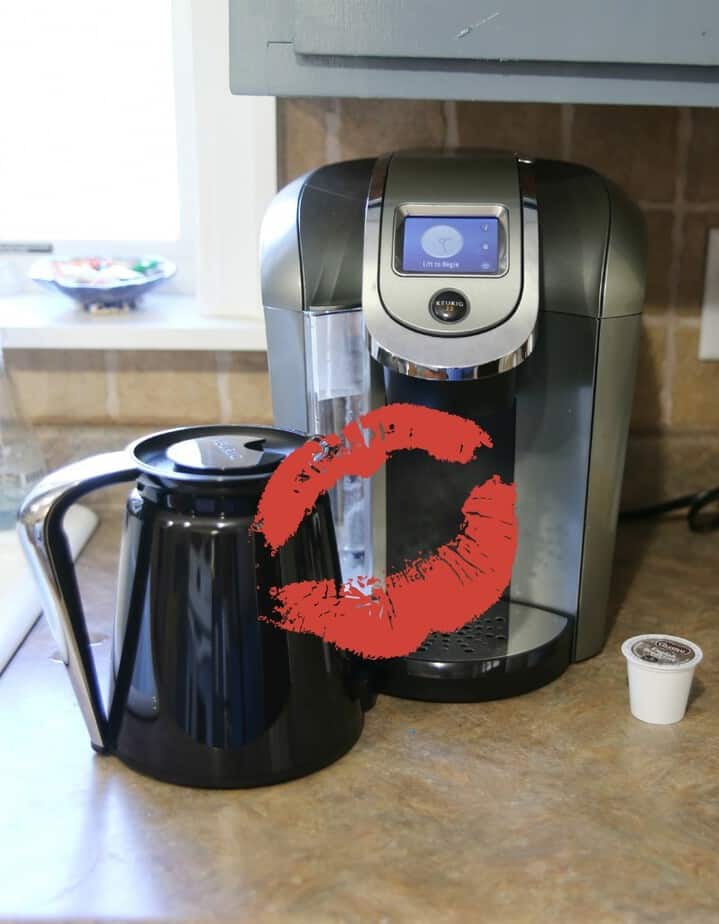 But 9 years of crappy sleep cycles will wear on you. My kids aren't good sleepers, I work from home and am often working late after the family goes to bed.  Now, I'm working on the set hours for blog work thing and am trying to NOT work at night once the kids are home from school or in bed. Not always possible, but I'm finding I can do it- and ENJOY it- more and more often than not as we settle into our new school and work routines.
But I still love my coffee.  Oh, and tea.  And quick hot water, at the perfect temperature for the kids' oatmeal in the morning.  Just hot enough to cook the oatmeal, just cool enough to eat right away.
And now I have a new way to get my coffee, my tea, hot cocoa, and hot water.
Look! You can see me about to have my coffee!!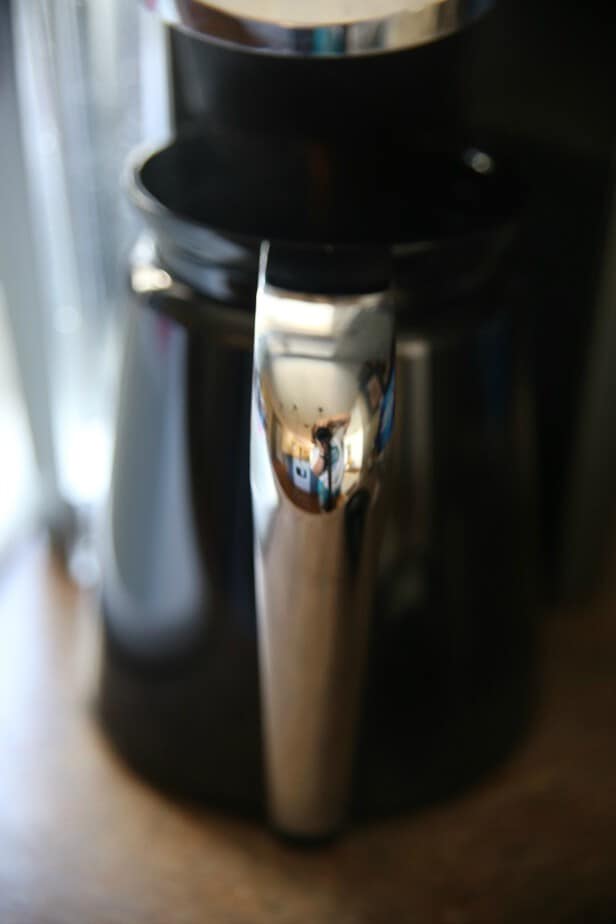 With the touch of a button.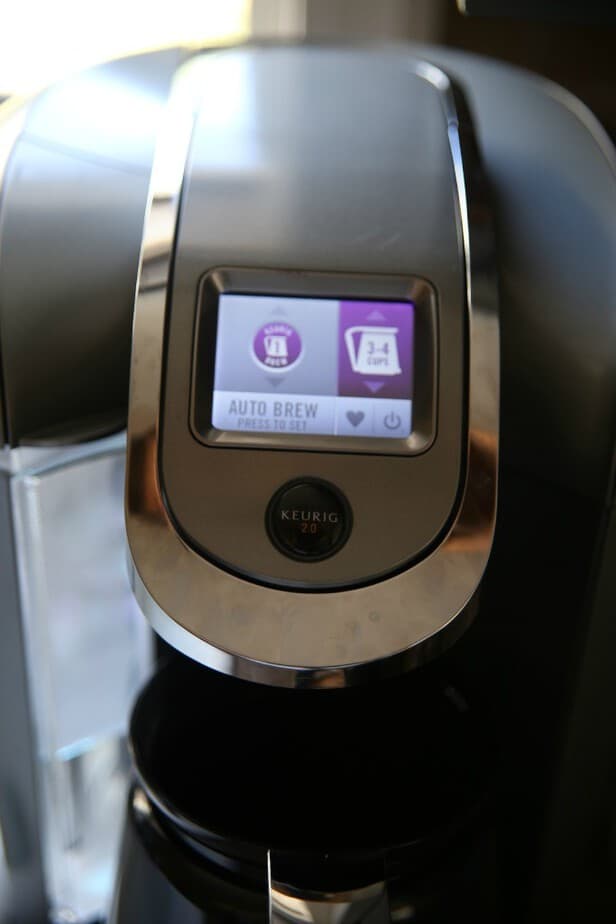 Well, a new version of an old love. But the love's been redirected almost all the way into this new Keurig. The 2.0. Why?
It's the carafe. If I have friends over, or want to indulge in a pot of, say, tea, while curled up with a fabulous book, I can fill the carafe and have multiple servings from the fab new Keurig.
The only reason the new Keurig 2.0 hasn't pulled me all the way over to full on obsession is that is currently no way at all to have a reusable KCup for this machine.  We do buy KCups in many varieties, but the coffee my husband drinks is not available in KCups and he's not able to enjoy his brew from the new machine. I also like the ability to reuse the cups and not send so much to recycling each week. I really miss that ability in the new 2.0 and am quite hopeful that the reusable cups will not only be OUT before Christmastime, but that there will be one or two in my stocking on Christmas morning.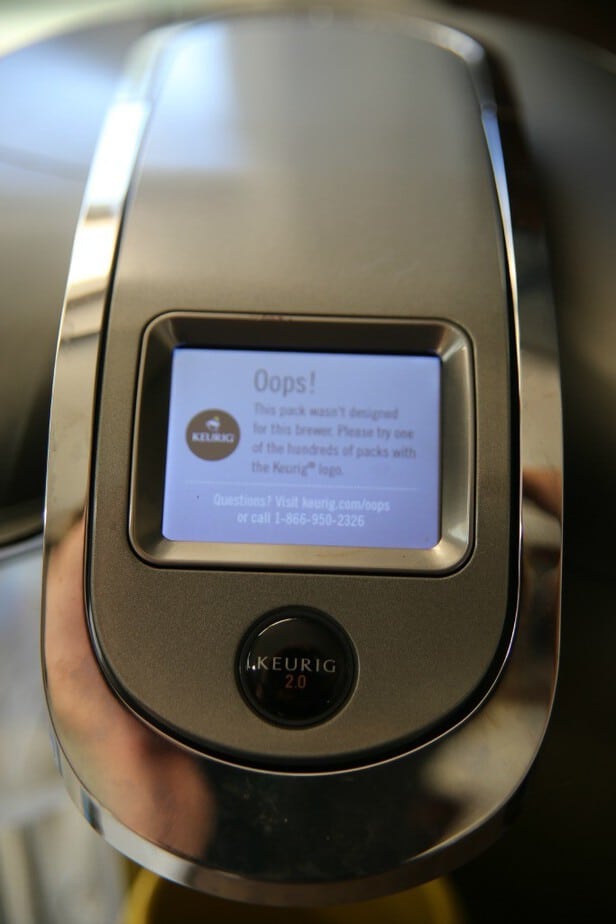 It's not just the carafe feature that's new on the Keurig 2.0.  There's a lot new!
Product Features:
Keurig 2.0 system brews a single K-cup or a 4-cup K-carafe pack.
Keurig 2.0 Brewing Technology reads the lid to deliver a perfect beverage every time.
Strength Control setting lets you brew a stronger cup.
Removable 80-ounce water reservoir offers easy filling and cleaning.
K-Cup Portion Pack allows you to enjoy a single serving.
K-Carafe Portion Pack brews a 4-cup pot.
Hot Water On Demand function is perfect for tea, soup, oatmeal and more.
Large 2.8-in. color touch display makes it easy to customize settings.
Programmable digital clock lends convenience.
Customizable night light in the water reservoir adds stylish appeal.
Energy-saver mode and brewer maintenance alerts ensure long-lasting use.
What's Included:
Keurig 4-cup carafe
6 K-Cup packs
4 K-Carafe packs
Water filter handle
Water filter cartridge
Win Free Coffee for a Year When You Say Hello to Keurig 2.0!
Customers who purchase a Keurig 2.0 brewer at Kohl's / Kohls.com can enter to win free coffee for a year!  (There is a no purchase necessary mail-in form of entry as well) Contest site goes live on Aug. 24 and the contest ends Sept. 17. Enter: kohls.com/keurig/sweeps.shtml
Buy @Keurig 2.0 @Kohls & enter 2 #win #free coffee for a year! Valid 8/24 to 9/17 http://t.co/NahIKE44oj #sponsored #HelloKeurig

— Brett Martin (@brettbmartin) September 15, 2014
Also? One lucky reader will win a $200 Kohls Gift Card to use towards a fabulous Keurig 2.0!