I found a great holiday gift idea for preschoolers thanks to the folks at RoseArt and Linqia- the new Magic Fun Dough sets.  Battery free and non toxic, these sets don't need batteries to play- they run all on creativity.  These sets come in 6 different themes and range from $9.99 to $19.99.  They are corn-based, wheat free and gluten free so you if your little one has allergies to any of these items, they can stills safely enjoy the sets and modeling compound.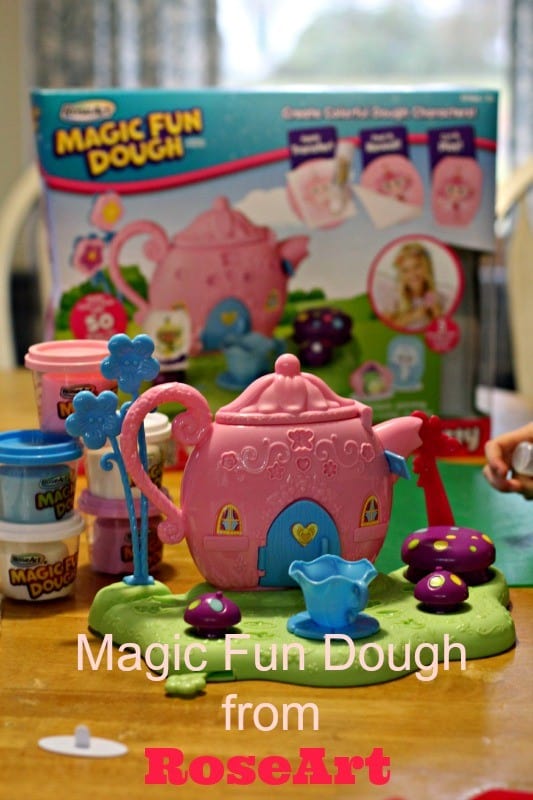 The Magic Fun Dough sets are found in the crafts area of your local Target and Walmart stores in addition to being available for purchase at Amazon.com.  They are meant for ages 3-7 but my 8 year old has been enjoying the Fairy Tea Party set we received for review right along with her little sister.  We have almost 2 full weeks off for vacation over the holidays this year and Santa and I will both be bringing several gifts that include crafts and creative thinking for the kids to share and keep busy! We like to have activities and games that we can share together and enjoy together.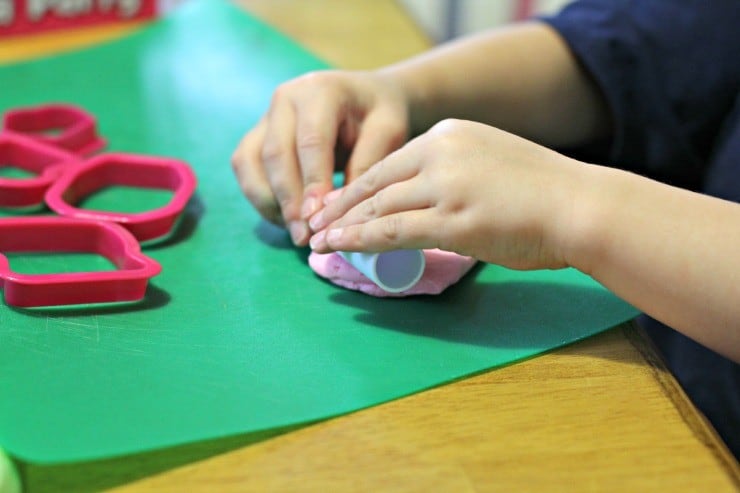 Adding the transfer to your dough is easy.  Roll it out, remove the plastic covering from the transfer you want to use (just like temporary tattoos)
and lay it atop your dough.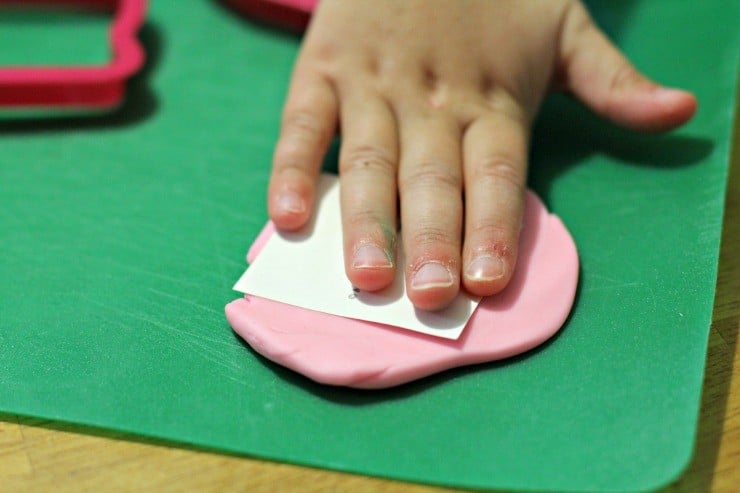 Once the transfer is in place, gently dab water using the applicator to moisten the paper.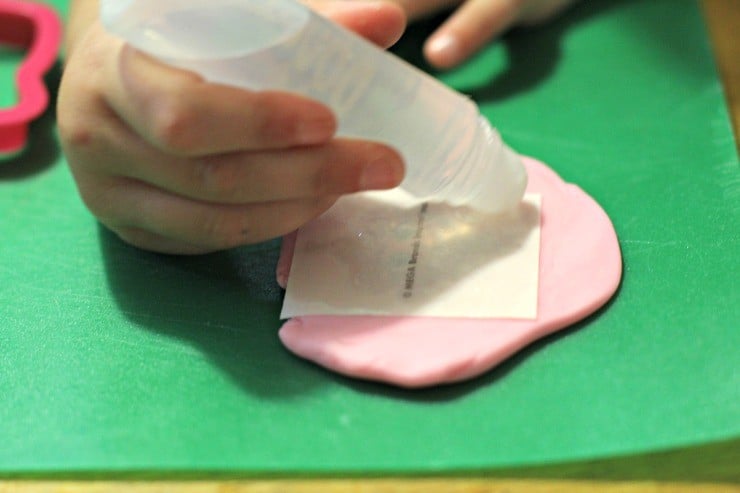 Then, gently press the sponge stamp on top of the paper to make sure the design transfers to the dough. (About 1 minute)
After the minute is up, slowly peel back the paper backing from the transfer.  You'll want to let the design air dry a few moments before doing anything with it.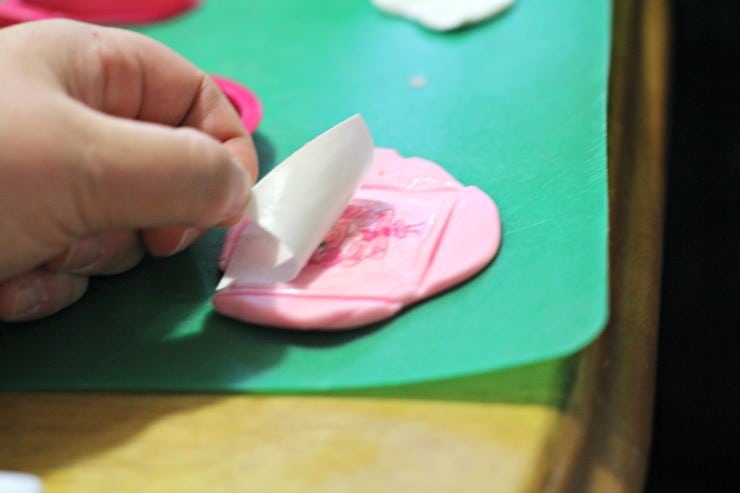 Once your transfer design is dry, cut it with a shape cutter or freehand and enjoy playing!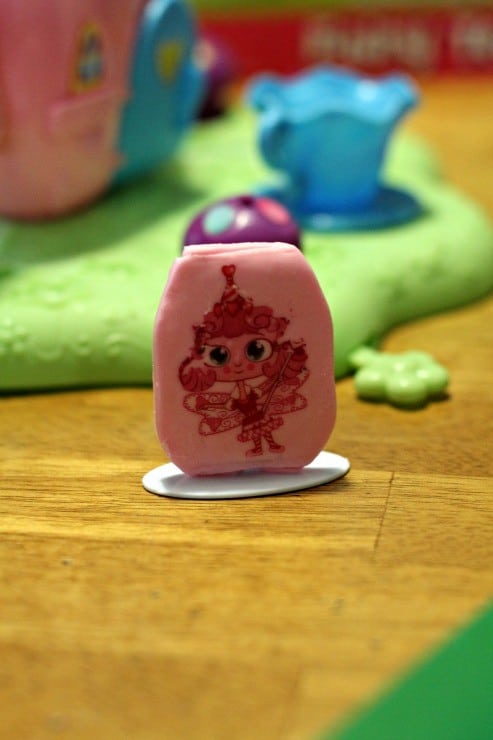 Our fairies like to spin until they are very, very dizzy.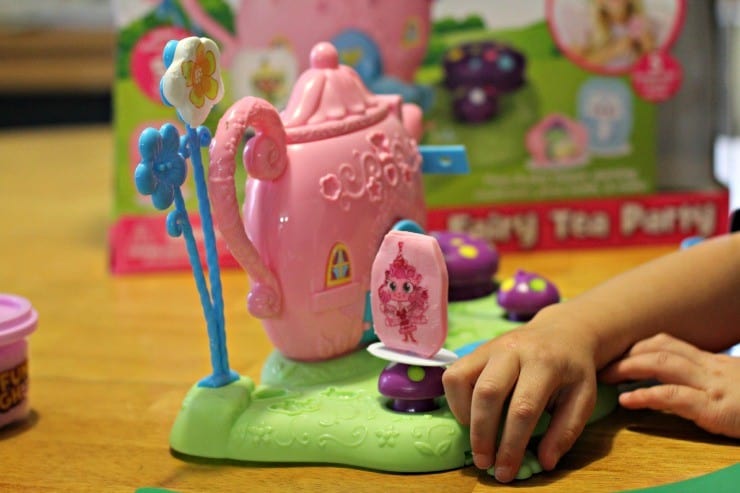 The transfers are meant to be absorbed into the dough- it doesn't change the color or texture of the dough- so when you are done playing, you can just put the dough into the containers and start fresh next time you want to play! Each piece of the set has a purpose- either to display or build new pieces. The large mushroom opens to create shapes, there are shapes to be made all over the 'grass' area, the back of the teapot house and inside the door have shapes, and also, when you put dough in the top of the teapot, you can press it out into different shapes and make "tea." It's a lot of fun and I can see my kids continuing to enjoy this for a long time to come.
Other sets include Volcano Valley, Pirate Cove, Barnyard, Pet Shop, Princess & Ponies and of course, the Fairy Tea Party.  These would be a GREAT purchase for grab bags, Secret Santa, toy drives and more!  No batteries to replace.
One reader will win a Magic Fun Dough Fairy Tea Party Set!
Don't forget to check out RoseArt's Facebook page for a fun sweepstakes- enter to win up to $1000 cash!