Have you ever wished for a smart thermostat?
You know, when you get to work and realize you didn't remember to turn down the heat and no one will be home until super late that night?  
Honeywell sent us their Wi-Fi Smart Thermostat for this review.  This thermostat is easy to install and quick to register.  You can set a schedule for the temperature of your home and you can even change the schedule remotely via the internet or an app.  How cool is that?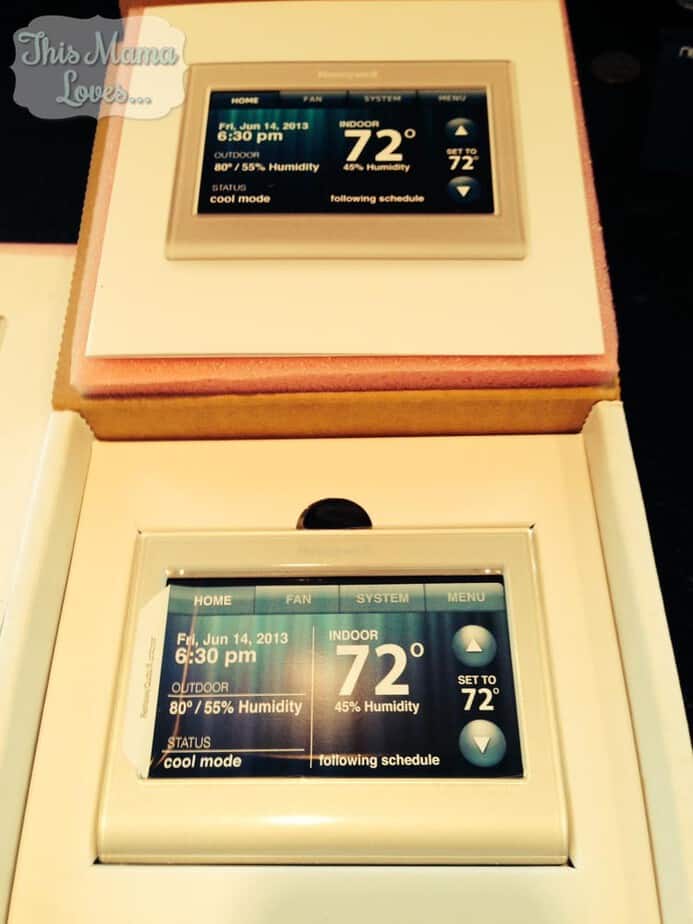 The Honeywell Wi-Fi Smart Thermostat Model # RTH9580WF retails for $224.  But, before you purchase it, go HERE and make sure your heating system is compatible.  We had to run new wire and to get ours installed but if you check the home compatibility and make sure you have a "C" wire it will go smoothly for you.
Smart technology made simple
Control from Anywhere – Honeywell's reliable and highly-rated app allows you to program your thermostat from your computer, tablet and smartphone, whether you're across the room or around the world
Simple Setup – The Wi-Fi smart thermostat's simple setup guides you through a few basic questions to get your 7-day program up and running and save you money fast
Customizable Color Touchscreen – The bright, easy-to-read touchscreen can be color customized to fit your mood, match your paint, or support your favorite team!
Smart, Flexible Scheduling – Our Wi-Fi smart thermostat offers flexible programming options for business and residential needs
Smart Response – This smart thermostat even learns your heating and cooling cycle times to deliver just the right temperature, right when you want it
Advanced Fan/Comfort Control – Improves air circulation and helps regulate the temperature throughout your home
Auto Alerts – Extreme temperature alerts and filter change reminders are sent to your connected network devices and are display on your Honeywell Wi-Fi smart thermostat, so whether you're home or away, you'll never miss an alert
Reliable App – This highly rated app is backed by Honeywell's reliable network, for dependable access and peace of mind. Available for iOS and Android devices
Indoor Humidity Sensor – Your indoor humidity is displayed right below the temperature
Locking Touchscreen – Advanced locking features and password options provide smart security and convenience
Compatible with heating, cooling and heat pumps
Does not work with heat pumps with electric baseboard heat (120-240V)
1-Year Warranty
Once we ran the wires and connected them to the furnace, the set up was quick and easy.  I took a picture of the information I needed to set up the free online account and app.  Setting up the account was easy and now I can manage the climate of my house from anywhere in the world.  Technology is amazing!  Our previous thermostat was programmable but not user friendly.  This Honeywell Wi-Fi smart thermostat will help us save money without sacrificing comfort.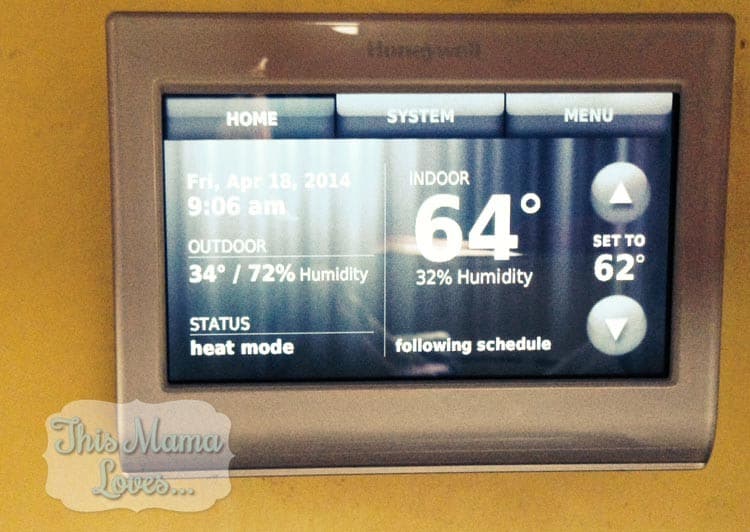 Three readers will win a Honeywell Wi-Fi Smart Thermostat!
Honeywell provided this thermostat for the review.  All opinions are my own.
0