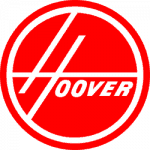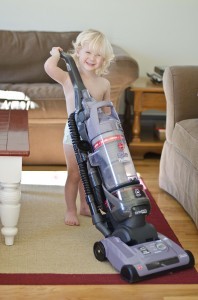 I had no idea how difficult it was to shop for a vacuum cleaner. We have been without a vacuum in our house for 6 MONTHS! Our central vacuum cleaner stopped working as well as our refurbished 1960's monstrosity. With a family of 5 having no vacuum cleaner is a problem. Luckily I was able to borrow some friends vacuums while I was making my decision. I did all the research, tried out all the brands but was having such a hard time making a decision. As luck would have it, an opportunity to try out the Hoover Elite Rewind Vacuum (sold exclusively at Walmart), came my way. Here is some information from the manufacturer:
The Hoover Elite Rewind Bagless Upright Vacuum is lightweight, sleek and user-friendly. Designed using multi cyclonic technology, this lightweight upright vacuum has strong suction power for improved cleaning. It is powered by a 12 amp motor and has a 25 foot power cord allowing you to vacuum a large room without re-plugging. It features a system check indicator to signal when the dust cup is full or the filter needs cleaning. The re-usable filter reduces your maintenance costs. The Hoover Elite Rewind Bagless Upright Vacuum features auto cord rewind, on board tools for precision cleaning, a dusting brush to clean furniture and a handle for easy transport.
Hoover Elite Rewind Bagless Upright Vacuum:
Cord Rewind – no more winding – gently tap the pedal to retract the cord to store neatly inside
Multi-Stage Cyclonic technology cleans the air moving through the filter for no loss of suction
Includes a rinsable filter and high-quality HEPA filter
Bottom Release Dirt Cup lets you see what you've picked up, when it's time to empty it out, and simplifies dirt disposal
25 foot Power Cord let you vacuum a large room without re-plugging
System Check Indicator lets you know when the filter needs to be cleaned or checked
3 height adjustments allows for pickup on all floor types
8 foot Stretch Hose allows for above-floor cleaning with simple tools
Carry Handle right on the front of unit for easy lifting
Weighs only 17 pounds. Light and easy to use with thorough cleaning power
This vacuum came just in time for my spring cleaning frenzy. Now that February is here and winter is coming to an end, I always feel inspired to clean and organize my home. Looking for some fun ways to get your family involved in spring cleaning? Here are some ideas:
· Take Attendance: To involve the family in spring cleaning, make sure the assigned day has no prior engagements and check everyone's schedules. Let everyone know that this is a family event and don't accept excuses.
· Don't Forget the Fun: Invite everyone to bring their favorite song to clean to, and make a play list. Then host a dance off where each family member shows off his or her new moves – with their new dance partner – might we suggest a Hoover® vacuum? The winner gets one less chore to do!
· Team Work: Assign rooms to each member of the family. Depending on the number of people in your family, some may be assigned more rooms than others. Very large, complex jobs, such as the garage, may require more than one person working on them.
· Munchie Motivation: Have some your family's favorites snacks and drinks on hand for break times. Having predetermined breaks can keep the family motivated to keep working.
· Hidden Gem: Hide small tokens around the areas being organized or cleaned. The people who have the most tokens at each break time get an extra 5 minutes at break.
My thoughts on the Hoover Elite Rewind Vaccum: Pros:
VERY easy to assemble. Basically just attach the handle and screw in 3 screws. I had the entire thing unpacked, assembled and ready to go in 5 minutes.
All the attachments fit nicely onto the vacuum , so no extra storage is required.
Comes with a nice long hose and an attachment for cleaning stairs. Worked great on my large staircase, which is always a challenge.
The bagless feature is great. Why is it so rewarding to see all that dirt? It truly is amazing what this vacuum was able to suck up out of my (what I thought were clean) rugs.
The canister is really easy to empty into the trash. Just takes a moment to do, but I would recommend emptying it after every large vacuum job. It gets filled up quickly.
Sucking power. Fabulous. In the past 6 months of research, this vacuum held it's own on suction capacity, even when compared to models that cost five times as much!
Carpet height adjustment dial is easily accessible at the front if the machine.
Attaching the accessories is simple. Just press the release button for the hose and attach your accessory. Easy peasy.
Let's talk about the easy rewind feature. I LOVE this!!!!. Unplug your cord after use and instead of winding up the cord, just press a pedal and the cord quickly rewinds all on its own! The feature is simple but works great.
Cons: Not much to ad here, but I do have a couple of thoughts.
The vacuum seems to run a little hot. After vacuuming one or two rooms, the cord gets a little warm. Not sure if this is a problem per se, but just something that I observed.
This vacuum was definitelydesigned for right handed folks. The cord is located on the right side of the vacuum instead of in the center. This is not an insurmountable problem, just another one of those things us lefties have to deal with.
Make sure you unwind extra cord before vacuuming. I noticed that the cord will not unwind on its own if you come up short.
Overall, a really great vacuum at a REALLY great price. I truly would recommend checking out the Hoover Elite rewind Bagless Upright before spending tons of money on another brand. The vacuum works great, has a well thought out design and comes with several attachments. You should have no problem tackling your spring cleaning projects with one of these puppies around. One of our readers will win their OWN Hoover Elite Rewind Bagless Upright Vacuum!!! // <![CDATA[ /*{literal}{/literal}*/ // ]]> a Rafflecopter giveaway You need javascript enabled to see this giveaway.
"A sample of this product was provided to facilitate this review. All opinions expressed are my own."