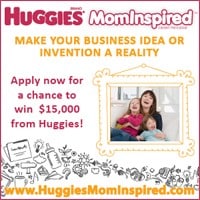 How many times have you thought of an idea that would be an excellent solution to a problem, or make something simpler, easier, work better?  Huggies recognizes that a lot of us moms have some really creative ideas and celebrates that in their Huggies® MomInspired™ grant program.  Huggies wants to recognize mom creativity by giving grant recipients $15,000 each!
The grant program celebrates the natural creativity of moms, who solve real parenting challenges every day in innovative ways.  Huggies® ® wants to give moms a chance to channel their moments of ingenuity into products that help improve the lives of children and parents through the Huggies® ® MomInspired™ grant program.   Grant recipients will receive $15,000 in seed capital as well as business resources to help turn innovative ideas into real-life inventions.  Applications are currently being accepted through July 31, 2012. Grants will be announced and awarded in fall 2012.   Moms can learn more and submit original, innovative and viable new business and product ideas now at HuggiesMomInspired.com.
Some past winners of the MomInspired Grant?  One of our reviewers Robin McCoy  won in 2010 for her  SoothEaze blanket, and some of the other winners have included Buzzy  Pain Relief, QuickZip! Crib Sheet, Dreemie Preemie and Colic Cradler.  These moms have had their ideas come to fruition- why not you?  Submissions are accepted through July 31, 2012, so get started today!
"Disclosure: " This post is part of a compensated campaign with Huggies® , Huggies®  MomInspired Grant and MomSelect. All thoughts and opinions are my own."
0