I was invited to the opening of the Walgreens flagship store opening by Collective Bias®.  I was compensated as part of a social shopper insights study for Collective Bias ™ and Walgreens #CBias #SocialFabric  All Opinions are my own.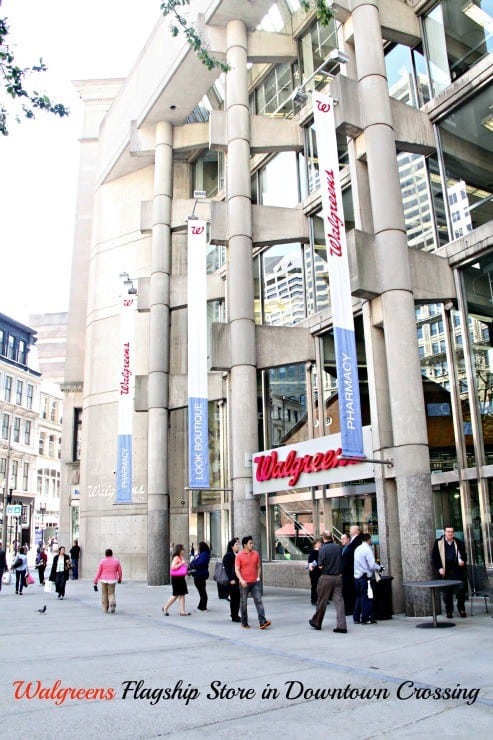 About a month ago I received an email telling me that there was going to be a Flagship store grand opening for Walgreens in Boston, Masachusetts.  Intrigued, I wondered just what a flagship store could be… and did I want to come up and attend the opening, and then share with my readers?  Well, yes, yes I did.  Now I'm going to tell you about this amazing store and I apologize if you end up wishing you lived in an area where there was or will soon be a flagship Walgreens store.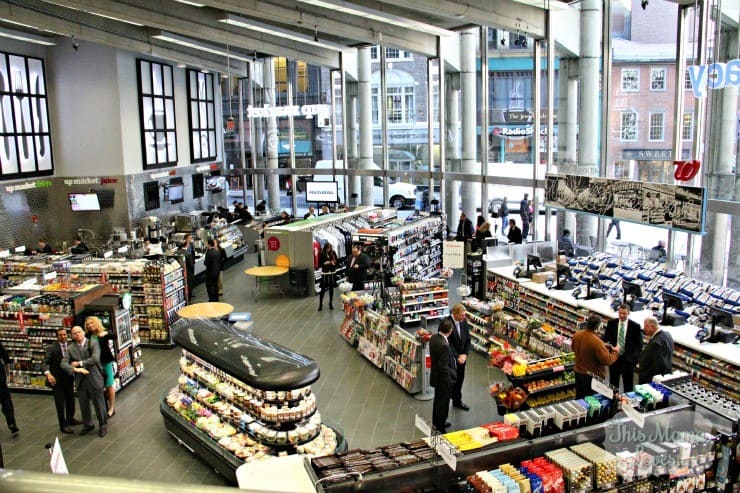 First things first. I want you to take all of the things you know and think about with Walgreens, and then kind of push them aside.  I mean, yes, the things that your local Walgreens sells are still at the flagship store. Why? Because….
You can get fresh sushi prepared by chefs.  In front of you.  At Walgreens.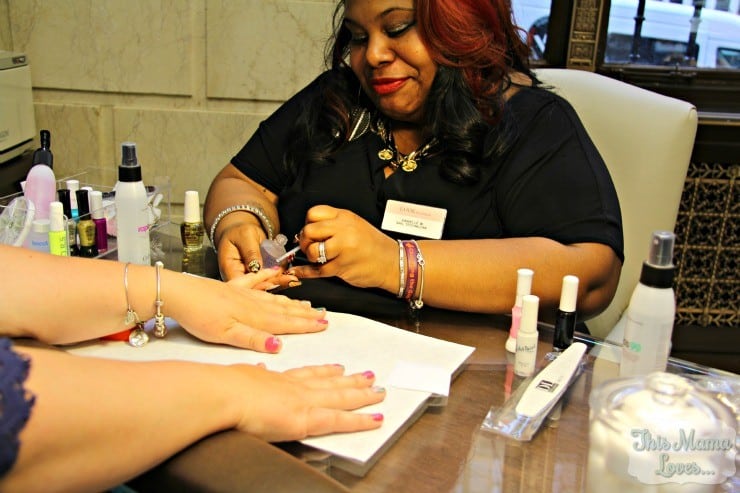 You can get a manicure (for $12!).  At Walgreens.  You can get designs applied, or a gel manicure, for a little bit more.  High end products, and trained and licensed nail technicians.  At Walgreens.
You can get your eyebrows "done" or your eyelashes applied.  At Walgreens.
You can have a private consultation with your pharmacist behind a closed door in a sound proof room.  At Walgreens.  Which reminds me- there's this whole concept Walgreens has with their pharmacy, and they want to focus on the care their pharmacists can provide to customers so the pharmacist is sitting out front, accessible and approachable.  At Walgreens.
You can pick up wine, beer and spirits.  At Walgreens.  (Please note, when I say wine, beer and spirits, I am not just talking about a few shelves.  The Walgreens at Downtown Crossing (School and Washington)  has a mezzanine level that's all wine, beer and spirits, including a section with imported cheeses, chilled wines (hello, staying in an area hotel?  STOP BY!)…and a fun little machine that helps you pair the aforementioned mezzanine level items with your dishes being served. Remember, this is still at Walgreens.
Want a soda?  (Do you call it pop where you live? I know people do, but it's kind of strange to me, having spent all 38 years and 360 days of my life to date living in New England) There's a Coke Freestyle machine and you can choose from 146 flavors.  One hundred forty six options.  At Walgreens.
Love smoothies?  There's a smoothie bar.  At Walgreens.  And something super fun about the smoothie bars is the local "flavor" in the smoothie varieties and names- in Boston, there are references to the Red Sox (my team!) and lots of other local sites, teams, and historical references.  It is, in 2 words, wicked awesome.  At Walgreens.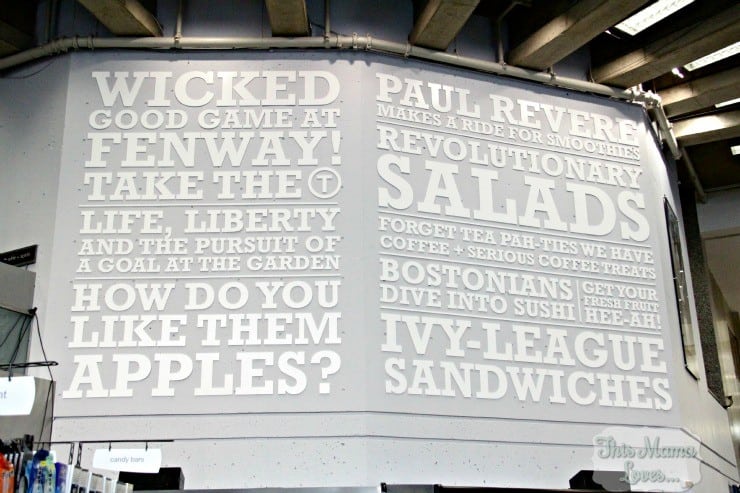 Local foods, local spirits, local beers and local culture are all pulled into the Downtown Crossing Flagship store. It's wicked fun to see all of the Boston "phrases" and expressions in huge prints on the wall when you first enter this building- and yes, wicked is on there.
Love high end cosmetics and beauty items?  The Look Boutique has it all.  So many brands, so many products….and so much fun.  The folks who work in the Look Boutique are specially trained and know their stuff.  If you haven't heard of Ramy Cosmetics, well, I'm sad for you.  Ramy is known for his eyebrow technique (No waxing! No threading!) and he tamed my wooly caterpillar brows for me.  At Walgreens.  (When you are there, you need to look for the magic wand. I need to go to Boston so I can buy like 5 of them. I totally forgot to get some before I left. The official name of this is the Perfect Eye Wand but really, it's a magic wand).
You'll find the everyday brands that you are used to finding at Walgreens in the flagship stores, but you'll also find Mineral Sea Mud products that I thought only came from exclusive salons and if you ask nicely (and I did, not surprisingly), they might even give you a little demo on your hand, so you can see what this stuff can do.  (It comes off with a magnet! I wish I had a video- especially of my face when they pulled a magnet out!).  All of this…at Walgreens.
Other amazing things you will find at a flagship store: Virtual Makeover Kiosks so you can see just how that Maybelline or Loreal product will look ON YOU.  There's a sample kiosk that offers $1 samples of many, many beauty products- it works like a vending machine- but you're getting a sample enclosed in a very nice envelope (it looks like a present!) and with the samples?  $2-$3 coupons to use on the full sized version of the samples you purchased.  One of the other bloggers who attended this event with me tried this Sample It machine (from Coinstar, and you won't (for now) find it anywhere else in the country) and tried the machine- she got a lip gloss sample- several colors came in that envelope- very generous sample, and a very generous coupon to boot!
Want to see more photos from the opening?  Check out my Google Plus album! I want to know what you think- can you believe this is Walgreens?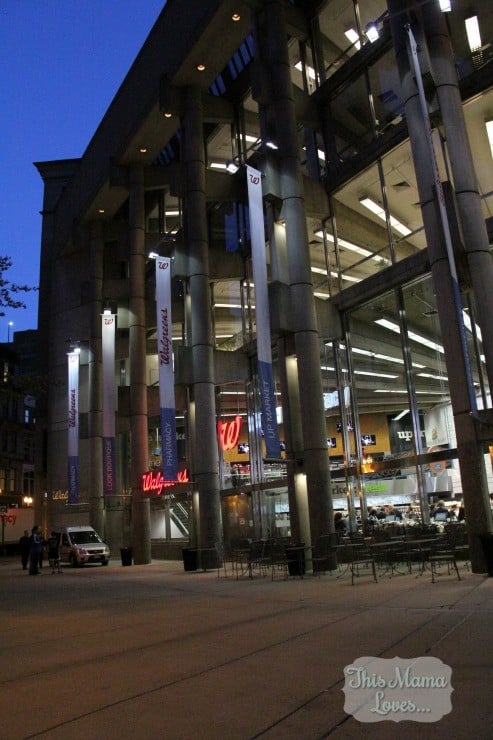 Next time you are in Boston, go to Walgreens.  It's worth it.  I can't wait until I'm in Boston again and can visit the store once more. This is not your mama's drugstore chain.  It's not your mama's Walgreens!