Now that school is almost out and the swimming pools will be opening soon I need to stock up on chilren's swimwear.  One item that I absolutely cannot live without?  A pullover hooded coverup.  These are great for the pool or the beach.  Just slip them over your little one's head and no need to worry about a towel!  There's only one problem.  WHERE do I find one?  Sure, you can find girly coverups just about anywhere, but what about little boys?  They are nowhere to be found.  Almost.   After much searching I found the PERFECT item!!  This rainbow stripe Pullover Hoodie Coverup from i play is EXACTLY what I have been looking for.  The design is absolutely adorable and so classic and the soft cotton/poly terry fabric wicks moisture away in seconds.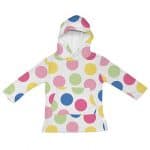 I am sure many of your are already familiar with the i play and green sprouts brand of baby and children's items. They offer everything baby and child related:
Whenever I am looking for that unique or hard to find item I always check i play.  They often have what I am looking for and they are ALWAYS reasonably priced.  Their designs are great and they offer quality items.  These hooded coverups are a steal at $29.
This pullover hoodie is offered in both a rainbow stripe and polka dot.  Both designs are adorable!  My little ones look so cute in their coverups.  I can't wait to try them out at the beach this summer!  Not only are they super functional, but I  think they would look great in a beach family photo.  No more shivering after taking a dip in the pool.  These hoodies keep my kids dry and warm!
Make sure to keep up to date on products and offers by following i play on Facebook!!!!!!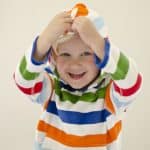 One of our readers will win their own Pullover Hoodie Coverup!! (winner chooses stripes or dots)
Javascript must be enabled to enter this giveaway. Learn how to activate Javascript by
clicking here.

Loading Entry-Form
"A sample of this item was provided to facilitate my review.  All opinions expressed are my own."