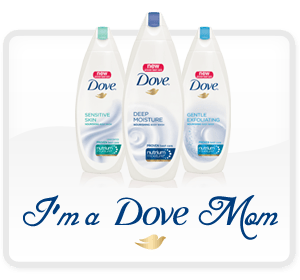 I'm excited to announce I'm a Dove Mom Ambassador!  My family has used Dove products for years and years and I'm thrilled to be part of this program.
Now that we have a bathtub worth soaking in, I've been taking more and more baths…and what fun is a bath with no kind of bubbles?  But I find almost immediately that most bubble bath products dry out my skin  very quickly, which makes me itchy and uncomfortable. We've always used Dove soaps for our bar soap, and I was eager to try the Dove Body Washes.  The washes have a new formula that contains 100% natural moisturizers– which means when I'm soaking in the tub, my skin is able to absorb those moisturizers and get some relief from my dry skin.
While I love scented products, I find they often dry my skin out, and I need something more gentle, especially in the winter months when heat and cold weather dry me out more than normal. I turn to Dove over and over because the products are gentle enough for my skin but also feel a bit luxurious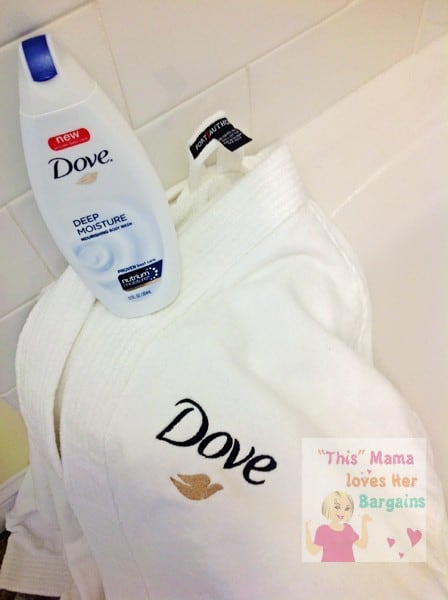 I am not just using these body washes in the tub, though.  They are my new way to wash in the shower, too. I love lather (probably stemming from my love of bubbles) and these Dove washes have a really nice, full lather.  I love it.  I feel like I'm having spa time in my own house.  (Never mind the cat pawing to get in, the kids howling at the door because of some injustice another committed, the phone ringing, or the dog barking downstairs).  The key to the great lather combined with the mildness of the body washes makes me a happy, happy girl.  It makes my skin happy as well. The Glycinate ingredient, typically found in high-end body washes, not only reduces damage to proteins during cleansing, but also creates a soap-comparable lather that rinses cleanly. 
Visit Dove's Facebook page to stay up to date and be the first to learn about deals, products and coupons!
What do you like to use for body wash?


I wrote this review while participating in a Brand Ambassador Campaign by Mom Central Consulting on behalf of Dove and received products to facilitate my post and a promotional item to thank me for taking the time to participate.