After having my baby a couple of months ago I am now ready to get back into cloth diapering again. When I had the opportunity to try out the new Incredibum bamboo cloth diaper I was really excited. Lately I have been seeing a lot of bamboo products for baby and I just love it! My experience with bamboo so far has been that it is an extremely absorbent material and feels luxuriously soft against the skin. A Word From Incredibum: "Our goal is to make a ecological and economical responsible diaper for everyone. One that is easy to use for today's parents who juggle jobs, family, and life in general. We're making cloth diapering easier for the masses. No more stuffing or folding. It's as easy as a snap!" "Incredibum bamboo cloth diapers are a great and easy alternative to traditional pocket cloth diapers. The ease of the snap inserts to the adjustable sizing makes this diaper one you will keep reaching over and over for. "The bum pad insert is made up of bamboo (67%), cotton (23%), and polyester (10%). The shell is made up of polyester (100%), TPU waterproof coating and Microfiber fleece lining." Incredibum was generous enough to send me one diaper, a small wet bag and a couple of their bamboo cloth wipes. I received the Firecracker Red wet bag and diaper, which are so vibrant and cute. The color stayed nice and bright wash after wash. The Incredium Cloth diaper is available in a variety of cute colors:

I think the Tropics Blue color is absolutely gorgeous as well! Many of their colors work well for boys and for girls, which is great if you pass down your diapers to a younger sibling of a different gender. My Thoughts: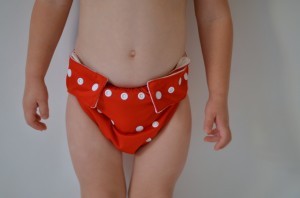 I tried this diaper out on my 2 year old, who weighs 30 pounds. The weight range for this diaper is listed from 8-35 pounds. He was probably at the end of his ability to wear this diaper comfortably. My 3 month old weighs 13 pounds and I found that the diaper was still a bit bulky on him. My kids happen to be at the beginning and end of the weight ranges, but this diaper should work just fine for the majority of babies and toddlers. I just loved the snap in inserts! I have been looking for a change from the regular old pocket diaper. It gets so tiresome stuffing inserts into diapers and trying to match up the correct one with the diaper. This system made it easy. Simply snap one or two inserts in and you are done. The bamboo inserts are really soft and absorbent. A great material for a cloth diaper. A word about the Incredibum Bum-boo wipes: These were my favorite!!! They were generously sized, super soft and just the right thickness. I will definitely be getting some more of these for my stash. I was previously using flannel wipes and was not impressed with the absorbency. These worked perfectly! The Incredibum wet bag was great too. I tried out the small size, which is reversible (red and yellow) and fits 3-5 diapers. It it great for the car and has a drawstring closure. I simply tossed mine in with my diaper laundry when it was time to wash.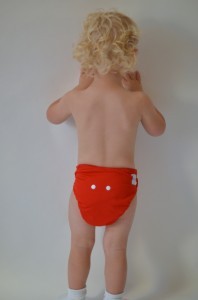 Here is a picture from the back. I just love how it kind of looks like mickey mouse pants! One Lucky Reader will win their own Incredibum Diaper (blue or pink), small wet bag and bum-boo wipes!! RafflecopterSettings = { raffleID: 'NjJiMjZhMjc3MzcwMTIzMGQ0NGM4NTIwYjAwNjY2Ojcx' }; You need javascript enabled to see this giveaway. "I received a sample of this product to facilitate my review. All opinions expressed are my own"