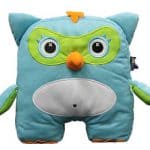 Have you heard of inkoos yet? I hadn't until quite recently- but I think they are a ton of fun.  inkoos are kind of like more "big kid" versions of the Aquadoodle and DoodleBears for the preschool crowd- stuffed friends who are cute and fun in and of themselves, but each comes with special ink markers that allow you to create, recreate, wash and start all over again.  inkoos wants to ink-spire your child to be creative and every inch of the inkoos friends is ink-friendly. No limitations on creativity, and when it is time for a change, in the wash they go!
Right after our inkoos arrived, I encountered a woman at Target who had noticed them on the shelf and was asking a friend about them.  Since I'd had a chance to see them up close and personal, I shared my thoughts about this product with her- the nice quality of the inkoos, the markers, the washability factor, which really DOES wash off, especially if you do so within the first 48 hours of creation, and the overall impression of this toy (quite positive).  I really was not sure if this would work, designs colored with ink markers and then washed off at a later date- but so far, we've not had any inkspirations on our inkoos that didn't come off.  She grabbed the owl design (which I have my eye on) and thanked me.  I noticed when I saw her later she'd gone back and gotten a second- she must be thinking like me that these are great gifts for kids who love to draw and color!!
With inkoos, the fun starts in the toy itself- there are owls, dogs, cats, and they (mostly) come in white, pink and purple.  More designs seem to be on the horizon, and I really like that they are remembering that boys may like to be creative with toys too! They each come with three markers and an inkspiration wheel for fun ideas.  Their motto is: If you can think it, you can ink it!
From a funky little town called Inkwell, here come the Inkoos! Quirky characters with a taste for adventure, Inkoos are drawn to life with a little Inkspiration from a friend like you. With their amazing markers, you can draw, design and decorate them into anything you can imagine! When you're ready for something new, just send them home for a rinse and a spin and start all over again! Every inch of inkoos can be designed and decorated with their amazing washable markers! The included Inkspiration Wheel gives you tons of design ideas – like ballerina, pirate and rockstar to name a few.

Each inkoos character includes the Inkspiration Wheel, plus 3 washable markers with a cool clip-on design so you can keep them handy for whenever Inkspiration strikes! If you can think it, you can ink it! Choose from 7 styles. Machine washable.
There are even mini inkoos – which come in a few more varieties and clip onto a backpack or belt loop and make perfect little stocking stuffers or gifts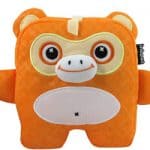 for a friend.    Our mini inkoos will be heading to many Sunday morning church services with my kids, I think – these are the perfect toy to keep kids quiet, entertained, and did I mention they are quiet toys??
I think these are a great idea. I love that the included markers clip onto the inkoos so they don't get lost, although they do say you can use other high quality markers on inkoos- we haven't tested that yet.  They suggest washing these in a pillowcase, and caution that you may need a 2nd wash cycle if the inkspirational designs haven't come off fully- which is kind of no big deal to me because I always put stuffed friends in a pillowcase or lingerie bag when they go into the wash.  A pretty fun product for a pretty fair price, if you ask me.  I'm just wondering how long it will take me to forget to remove the markers from the inkoos before washing.  Its only a matter of time!  The instructions also caution to NOT put these in the dryer until you are certain the ink designs are gone (otherwise I'm going to just assume they'll be "set" forever).
One reader will win an inkoos and a mini inkoos!


I received samples of this product to facilitate my review.  Opinions are my own.
0