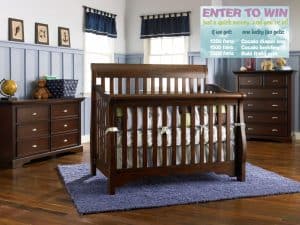 Inspired Nursery  is hosting the last day of its Facebook  giveaway  on Thursday Sept 15th and we are excited to be building our community so we are celebrating!  If we get to 1500 or 2000 fans we giving away incredible prizes.  At 1500, they  are giving away a CoCaLo baby bedding set and Serta Crib Mattress and if they hit 2000, one fan will win a beautiful new baby crib from the Babi Italia collection! 
 I was just fan #1500 so they are at LEAST giving away a CoCaLo baby bedding set with a Serta Crib Mattress– can we get them to 2000?  How cool will it be if one of MY readers wins one of these awesome prizes!!???  (You have to promise to share if you do…)
So here's my challenge to you- maybe you (like me) don't have any need for baby bedding.  But perhaps someone you know does.  Or you want to need it.  Maybe we can help someone else win it just by "liking" Inspired Nursery's page on Facebook- and once you do like them, if you decide to enter, click on the giveaway tab.  Quick and easy! 
CoCaLo baby bedding is one of the top notch brands- very well made, beautiful fabrics and designs and adorable collections to satisfy any design desires.  Pair that with a Serta mattress and your baby will be sleeping in the lap of luxury!! 
What are you waiting for?  Go enter!! Remember, I want to know if you win!!  GOOD LUCK!
This post is brought to you by our friends at Inspired Nursery.  Opinions are my own.