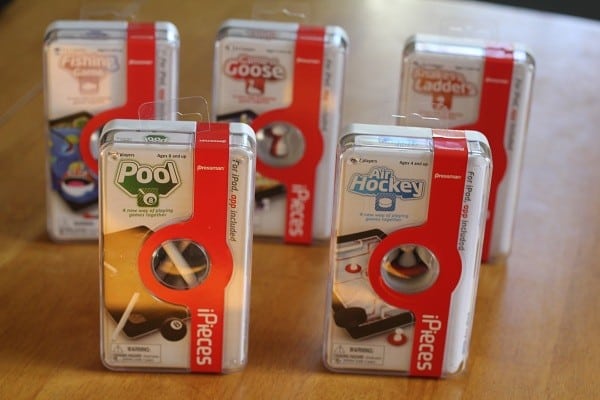 I have a FUN stocking stuffer idea for all of you who own iPads!  Pressman Toy has these fun new games that bring old school board games into the world of technology- the new line of iPieces!  These games are fun- the digital boards mean things can move, you can have sound effects, etc.  That's a new twist on an old fav0rite in itself.  The game pieces are just like the "real" ones, although scaled to fit within an iPad screen.  There are also fewer pieces since much of the game is within the free app- so less to lose (This is kind of important in my house because my kids are constantly losing track of game pieces and it drives me bonkers!). While I will always prefer traditional board games, I am glad to have these games, and I know there will be times I use them- especially when we travel, or have medical appointments.  Bringing 5 board games on a family trip will take up a considerable amount of space, but bringing 5 iPieces games on a family trip will maybe fill up a space the size of a lunchbox!  The smaller size means they are very easy to transport and a great thing to keep in your bag for just in case.  I like to have one of my devices on hand if we go to a doctors appointment, or another appointment where we may be waiting a long time- and I'd much prefer to play a game with my kids than have them play solo if possible. I think it will be more fun to play Snakes and Ladders while waiting for the nurse to come in than not having a game to play!  (Plus, there are snake sounds, and tumbleweeds that roll across the screen. The sound effects are great fun!)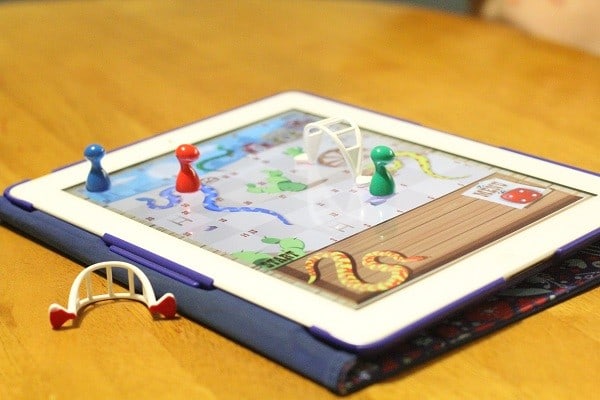 The pieces for each of these games is made with a material meant to not scratch your iPad screen.  There are notes on each game that if you you do have a protective screen on your device, the pieces may leave some marks. MY favorite of these games is Air Hockey.  The teeniest version of Air Hockey you ever did see, but just as fun.  It makes me think of the "old" days when we'd play things like tabletop football while waiting for our orders at a restaurant.
iPieces Goose Game brings the classic goose game to life! Move across the board and see how your interactive iPieces unlock fantastic animations of flying geese. iPieces Snakes & Ladders Game brings the classic game of Snakes & Ladders to life! Move across the game board and place your ladders strategically to reach the top. Experience how the snakes rise and hiss. iPieces Air Hockey Game allows you to experience the thrill of hitting the puck with real iPieces strikers on your iPad. Various game possibilities. iPieces Fishing Game brings the classic fishing game to life! Catch a fish with your fishing rod and drag it to your bucket to score points. But watch out for the Heron or Pike! This fishing game provides hours of fun! iPieces Pool Game (This one is going in my husband's stocking- he actually played pool in a league when I first met him and while he's not playing anymore, it'll be fun to play with him now!) Just when you thought you have mastered Pool comes a great new way to play. Take your cue and rack up the balls. Play right on the iPad. 1 – 2 players.  Compatible with all iPads
Each of these iPieces games retails for about $9.99-$12.99 and are definitely a great gift for any iPad user on your list! iPieces are available for purchase at Toys"R"Us, Barnes & Noble, K-mart, Radio Shack, Learning Express, and BJ's Wholesale Club stores nationwide.  They are also available for purchase online at Amazon.com and ToysRUs.com.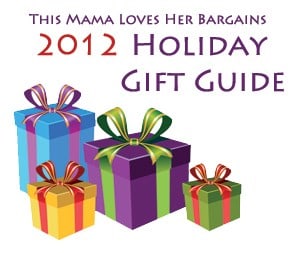 One reader will win an iPieces game of your choice! To enter, simply leave a comment and tell me which of the iPieces games you'll choose if you win!
Want extra entries? (Leave a comment for each entry method you do and either leave your username or the URL of your "share")
*Like Pressman Toy on Facebook 
*
*
*
*
*
*Share this giveaway on any social networking site- can be done 1x/day but leave the url of each share in it's own comment!
 Samples of this product were received to facilitate my review.  Opinions are my own. This giveaway will end on November 23, 2012 at 11:59 pm EST. US only. Winner to be chosen randomly. One entry per household.
0