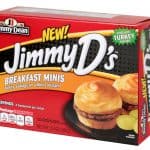 Jimmy Dean is currently hosting a sweepstakes on their Facebook page called "52 Ways to Deliver Great Days," where each week for the next year they are giving away great prizes they change the prize up on Mondays!) to  fans who answer the question of the week about how they help deliver great days to their family and friends.  This week, the prize is $250 to spend at Macy's!
It's simple to enter, visit the 52 ways tab on the Jimmy Dean Facbook page (you can access it here: ) and then answer the weekly question via a text entry (worth 1 sweeps entry), photo (worth 5 sweeps entries) or video (worth 10 sweeps entries) for your chance to win. They pick a winner at the end of each week!
So what do you do to help deliver great days to family and friends?  For my family, I try to make sure I'm at least pleasant (even if not fully awake) in the morning and send them off to school and work with a hug, a kiss and a full belly to keep them full until lunch.  Sometimes I stick cute notes in their lunches, sometimes a drawing or a sticker.  (This goes over way better with my kids than my husband of course!!)
One of my readers will win coupons for 3 FREE Jimmy Dean Mini's!



I received coupons for this product in exchange for my post.  Opinions are my own.