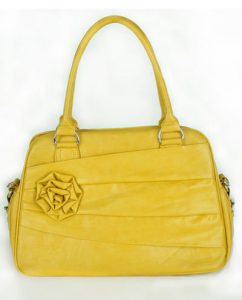 This Valentine's Day, I got a treat for me.  A new camera bag.  A stylish, fun, modern, feminine camera bag. I love it.  It's one of the gorgeous, stylish and totally functional Jo Totes– the Rose bag, in Marigold.  The name alone drew me in, but look how gorgeous this bag is!  I have gone through I think 4 other camera bags since starting to use a DSLR camera, and this is by far the most stylish and functional. I've had pretty ones too but they don't feel as sturdy.  I want to feel like my camera investment is protected!
The beauty of this bag kind of speaks for itself.  The functionality is awesome.  Lots of options to configure the interior (in a fun houndstooth print) to get your equipment the way you like it, roomy pockets of varying sizes.  Four adjustable pads mean lots of ways to use the interior!   You can use the handles to carry your bag or clip the shoulder strap on and keep your hands free.  This bag can also very easily be used  for other purposes when you aren't using it for a camera bag, or give it multi function.  There is plenty of room for your camera, a spare lens, your flash, and some purse items.
Strong pockets  and very durable hardware and closures ensure that this bag investment will protect your camera equipment for a very long time, all while letting you express your individuality and fashion.  There are even metal feet to keep your bag looking its best when you set  it down.
The folks at Jo Totes set out to make fun, fashionable and functional camera bags for women.  They succeeded.  I think that their prices are GREAT, because when you invest in a DSLR camera and lenses, flash, and all of the other accessories and components you may use, you NEED to protect that investment.  Why not do it in style?   I've had bags that cost the same but they are boxy and boring, and totally not something that makes me happy to carry. I LOVE bags, and I really love fun bags.  The Rose bag just makes me smile!
It was really, really difficult to choose just one color.  The teal really calls out to me, too.  Not into Marigold or Teal?  The Jo Totes also come in black, raspberry, moss, sugarplum, noir floral  and chocolate.  Lots of delightful colors to suit your style!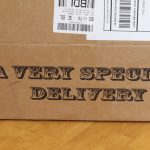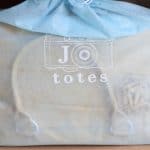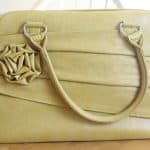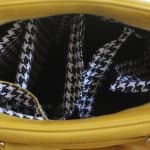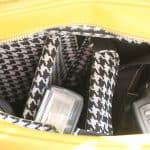 Rose – Marigold
Stay ladylike while protecting your equipment with our padded camera bag, Rose.
This lovely vintage-inspired handbag features a rosette, pleated sides and front panel, and zippered pockets for your odds and ends. The vintage detail includes a durable and easy-to-pull metal zipper.
Rose is the perfect day bag for carrying your camera and an extra lens with your purse items while out and about.
Details
Exterior material: lambskin pattern, water-resistant, top quality faux leather in marigold
Interior fabric: cotton in black and white houndstooth
1/2″ foam sewn into the lining of all four sides and the bottom of the bag
Four adjustable pads made from 1/2″ foam (two with soft velcro panels for horizontal placement)
Removable and adjustable cross-body strap
Durable and smooth-gliding metal zipper
Optional-use magnetic closures on top for times when your bag is less full, or in place of using the zipper when quick access is necessary
8″ drop from shoulder
Exterior: pleated sides; large zippered back pocket; rosette and pleated front panel
Interior pockets: two open pockets; one zippered pocket
Metal color: brushed silver
Four metal feet
Size: 16 3/4″ x 11″ x 6″
$89
One of my readers will win a Jo Totes of their own- in their style and color of choice (based on availability) Happy Valentine's Day, indeed!


a Rafflecopter giveaway

I received a sample of this product to facilitate my review.  Opinions are my own.
0