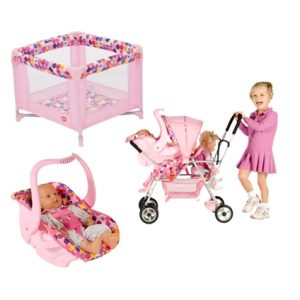 We are very serious about our baby dolls in this house.  Or rather, about our dolls. I guess now that my oldest has evolved into the world of 18 inch dolls and all that comes with them, it's not just baby dolls anymore?  Anyway, we've loved the toy strollers we had to pieces, and I mean that literally.  It was time to get something new, something that was a bit more sturdy, that will last until the kids maybe don't want to push a doll stroller around.
Let me tell you right now, when THAT particular day comes, I will be a weepy mess.
Thankfully, we're years from that sad day.
Joovy, a well known, quality brand that makes high end strollers and other baby gear items, offered up the perfect solution to a problem I didn't even know I had.  They make a Toy Bundle. Transporting 18 inch dolls- AND the baby dolls!!  The Joovy Caboose is a well-known, great option for families with older kids who might sometimes need a little ride…but not a full stroller seat all of the time.  Now there's a toy option for your kids that looks every bit as sleek and stylish as the full-sized version- only the print on the stroller is a little bit funkier.  Not only that, but there is an infant seat (with removable base, of course), a toy play-yard and a doll booster seat to coordinate.  A matched set.  Just like mom and dad's.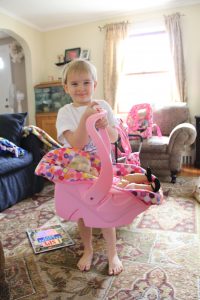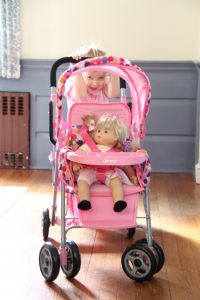 My kids are beyond enamored with this set.  If you are wondering, the 18 inch dolls do fit in the infant carrier, as well as on the "platform" in the rear of the stroller (although they are kind of on 'tiptoes' but with the straps fastened, this is not an issue at all.  My kids have figured out a way to get the infant seat, a 15 inch doll and an 18 inch doll or 2 18 inch dolls with the infant seat to "work" with the stroller.  This, of course, means that I have many, many outings in my future with several dolls in tow.  I'm ok with that- if it keeps the kids happy, busy and out of trouble but in my site, I'm going to support it.
The items in the Toy Bundle come in two styles- Pink Dot and Blue Dot.   We received the Pink Dot for our review (my son might have preferred that we get the Blue Dot but honestly, he really doesn't notice!).  The items came very well packaged (although I have never in my life encountered a glue so strong as the one they close their boxes shut with!!).
Assembly is really quite simple and straightforward- and one thing I REALLY love about the assembly of the toy Caboose is that it is meant to be assembled one time and the instructions actually say as much.  I've gotten really good at toy assembly since becoming a mom and I always appreciate clear, easy to follow instructions.  Joovy provides that for us.  The materials and components of these toys are what you'd expect to find on the baby gear, so I feel that they will most definitely last, last and last some more.  Very sturdy construction and secure fasteners.
The stroller has a toy bar that the dolls can play with, or you can easily pull the toy bar off (we store it in the storage basket underneath) and put a bar on that holds the infant seat in place.  The kids have a great time changing this out- although the 2.5  and 4 year olds are not quite able to change the toy bar out without assistance, but my 6.5 year old is.  The folks at Joovy really took the time to think through all of the details in this set!
The infant seat base and the booster seat both come with tether straps so that your little one can securely get their baby dolls into the car and
One lucky reader will win a Toy Bundle from Joovy in their choice of Blue Dot or Pink Dot!   A second winner will win a toy booster seat in their choice of color!

a Rafflecopter giveaway
I received these items to facilitate my review as part of the Joovy Mom program.  Opinions are my own.
0