Do you ever stand back and look at your closet thinking, I have a lot of clothes in this closet, and I hardly wear any of them?  Or maybe you realize that you have worn the same top and skirt for 4 Mondays running, and decide maybe you want to mix things up.  I've seen a lot of friends and family "shopping their closets" lately and there's a new product that can help you keep track of things in your closet- My Clothing Helper! In the long run, I think My Clothing Helper will help you to save money.  You may just find yourself reaching further into your closet or pairing different pieces together when you realize how often you wear something!  And if you go a really long time without wearing something, maybe it's time to pass it along to someone else and free up some space in your own closet.
These would make a GREAT stocking stuffer!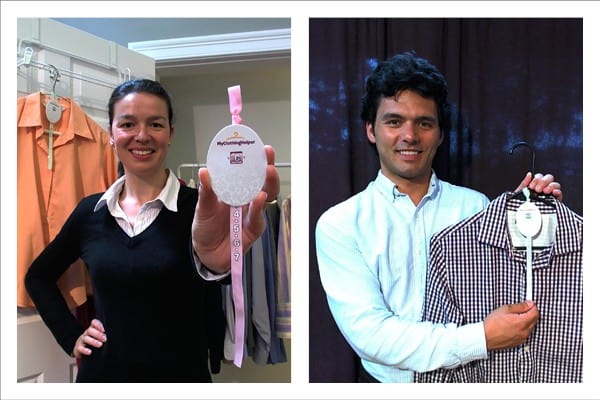 MyClothingHelper: Tracks what you wear for smart clothing care.

MyClothingHelper is the clothing care product that keeps track of what you wear. Use MyClothingHelper to track when you last wore an item or outfit, how often you wear a particular item, or to keep track of the freshness of clothes you can wear more than once between cleanings. By tracking clothing wear you'll prevent repeat-wears, vary your wardrobe, protect your clothes from harmful over-washing, save time and money, and you'll become a smarter shopper.

MyClothingHelper is like having your own personal assistant

Most of us try to keep track of how often we're wearing a particular garment for a host of reasons. But in a closet full of pants, dresses, shirts, and jackets it's hard to keep track. The only way to really know when and how many times you've worn something is to actively keep track with a product like MyClothingHelper.

Consisting of just a small card and ribbon, the sleek, low-profile design of MyClothingHelper looks good in any closet and it works on any hanger.

MyClothingHelper is available in packages of 7 and 24 and at under $10 it makes a great holiday gift! To learn more about the benefits of using MyClothingHelper and to find out about our free shipping offer, please visit us at MyClothingHelper.com. MyClothingHelper: Tracks what you wear, for smart clothing care.

Some of the benefits of using MyClothingHelper

1. Keep your look fresh by preventing repeat-wears.

Remember your look is what you wear and how many times people see you in that outfit. MyClothingHelper can be used to track the day and the week you wore an item or outfit. The numbers 1 through 7 printed on the ribbon can represent the days of the week. If "1" is Monday, and the window reads "3", then you know you last wore the garment on Wednesday.

If you see the same people every week at work or in class, keeping track of what you wear can prevent a lot of embarrassment. Instead of wearing the same thing three Tuesdays in a row, MyClothingHelper will make sure you wear something different. Varying you wardrobe every week instantly makes you appear more stylish. No more "hey, didn't you wear that last week?"

2. Don't over-wear your favorite clothes. Use more of your wardrobe.

People on average only wear about half of the clothes in their closet. If you use MyClothingHelper to track how often you wear an item or outfit, you'll find out right away which clothes are your favorite and which ones you tend to neglect.

For example, if the window on most of your clothes reads "2", but a few read "5" or "6", maybe you should avoid those high-numbered items next time. Instead, inject a little variety into your wardrobe. Wear something with a lower wear number to show those neglected clothes a little love.

3. Track clothing freshness.

The reality is we all have clothes that can be worn more than once before cleaning. So save the unnecessary expense and don't beat up your clothes by over-washing and dry-cleaning them when they're still perfectly wearable. Clothes are fragile. Constant washing and dry-cleaning will wear-out, misshape, and otherwise shorten the life of your clothes. Protect the investment you've made in your wardrobe. When you use MyClothingHelper, you'll know just when to wash or dry-clean. Your clothes (and your wallet) will thank you.

4. Increase your closet awareness and become a smarter shopper.

Using MyClothingHelper gives you lots of valuable feedback. One of the most important is learning which clothes you wear often and which clothes you rarely wear. Knowing what you actually wear will help you make smarter clothing purchases. Sure, that checkered shirt may look nice in your closet, but if by using MyClothingHelper you discover that you never wear it, maybe it's time to let it go. You'll think twice next time you're tempted to buy a similar item. MyClothingHelper will help you discover and refine your fashion sense.

5. Reduce stress.

One of the most stressful parts of our day can be getting ready in the morning. Wasting time trying to decide what to wear is a bad way to start the day. MyClothingHelper makes deciding what to wear easy. You'll never wonder how many times you wore those pants or when you last wore that shirt. Like a personal assistant, MyClothingHelper can tell you when or how many times you've worn something. The simple convenience of knowing saves times and helps reduce stress.

6. Be good to the environment.
By using MyClothingHelper you prevent over-washing and that helps to conserve resources like water and energy. You will also reduce the emission of harmful dry-cleaning chemicals into the atmosphere. With MyClothingHelper you can help the environment while saving time and money.
THREE readers will each receive a 24-pack of My Clothing Helpers!
To Enter: Leave a comment telling me what you like best about My Clothing Helper.
Want extra entries?
Leave a comment for each entry method you do and either leave your username or the URL of your "share
*
*Share this giveaway on any social networking site- can be done 1x/day but leave the url of each share in it's own comment!
This giveaway will end on January 27th

, 2012 at 11:59pm EST.
0