This post is sponsored by Boudreaux's Butt Paste®, the effective diaper rash cream that treats and prevents diaper rash with every change. Let's kick some rash!
If there is one thing that parents can ALL agree upon, it might be that diaper rash is not fun at all.  Not for the baby, and not for the parents or caregivers.  Sure, treatment methods may vary, but ultimately? If you find a diaper rash treatment that works for your child, you stick with it.  Always.  I know for me, once I knew what worked for my babies' skin, there wasn't much that could persuade me to try other products, brands, etc.  Having seen my little ones' sore tushies and feeling like I wasn't able to help them feel better wasn't something I wanted to mess around with.
Boudreaux's Butt Paste was a brand I tried for diaper rash treatment because the name caught my attention.  It's a brand I love and use even today because it works great on my kids.  I still love the name.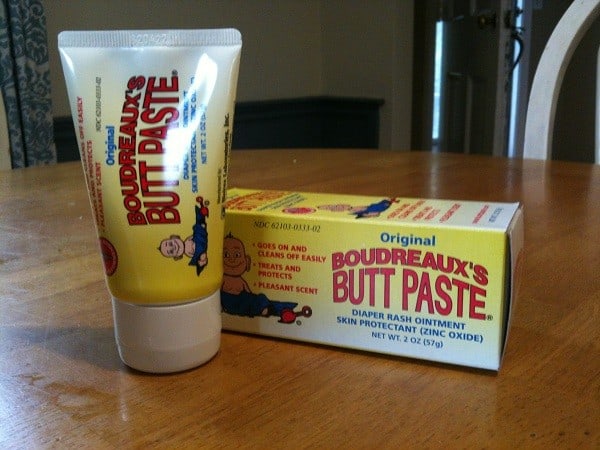 My kids all had diaper rashes, but my daughter's first diaper rash was the most memorable.  I was so diligent about changing her frequently, and keeping her clean and as dry as possible, and like many diaper rashes, started as just a hint of redness on her diaper area.  I patted her dry and put a small amount of cream on her.  An hour later, I changed her diaper again. I was very surprised at how red her diaper area was even after I'd used a little bit of cream. This time, I decided we'd do some naked time on a blanket, and I let her "air" for a few minutes. I applied cream much more liberally after this and diapered her again, making a mental note to check her again in an hour.  Thankfully, things didn't get worse, and a few days of applying diaper cream liberally had her good as new.  Other rashes we have had have been far worse,  thankfully only a handful of them- most were about the same.  I've tried to have quality diaper creams in the house that help to soothe tender skin and provide a barrier to wetness to keep that baby skin from getting worse and letting it heal. Like I said before, Boudreaux's Butt Paste has always been a favorite brand to Kick some RASH! with!

One lucky reader will win a $150 Prize Pack including a $50 Target Gift Card, $50 Walmart Gift Card, and $50 Babies R Us Gift Card.  
TO ENTER:  Leave a comment below telling me how you care for diaper rash. 
By submitting your response, you will automatically receive one (1) entry into the Sweepstakes. Responses may not be indecent, obscene, hateful, tortious, defamatory, or libelous or contain material that violates or infringes another's rights, or disparage Sponsor, Administrator or Boudreaux's Butt Paste or any other person or party affiliated with the Sweepstakes, or contain material that is unlawful in any way. Sponsor and Hosting Websites reserve the right to remove any responses that they find unlawful, or in violation of these Official Rules, all in their sole discretion.
Receive Additional Entries for Sharing the Boudreaux Butt Paste Video: After you have submitted your response, click on the embedded YouTube video found above. Tweet the video to your followers and/or share the video using Google+. Post the weblink of your Tweet or Google+ post or email in a comment on this post and you will automatically receive one (1) additional entry.  You may receive one (1) entry for sharing the video by a Tweet and one (1) entry for sharing through Google+
*Please note that the chosen winner will not actually win the prize until ePrize has collect the prize acceptance documentation. Upon winner being selected, I will send further instructions to get your prize confirmed, and you will have 48 hours to respond with the information required by eprize to fulfill your prize pack.
You can ALSO increase your chances to win the same prize pack at The Shopping Mama, Adventures in All Things Food, Lilac City Momma, Momaroo and A Life to Brag About.  There will be 1 winner from each of the hosting sites for this giveaway.
As part of the DailyBuzz Moms Featured Publisher Program, I received a stipend and a Boudreaux's Butt Paste® Mom Toolkit in exchange for my participation in this program.
OFFICIAL RULES
http://r1.fmpub.net/?r=http%3A%2F%2Fad.doubleclick.net%2Fclk%3B263616637%3B81413373%3Bj&k4=5025&k5={banner_id}
0