The Gannon and Wyatt series echoes Lewis and Clark in the way the books are written.  Designed to be educational and historical, middle grade kids will find themselves deep in adventures in Botswana, Egypt, the Great Bear Rainforest and other places around the globe.  My oldest LOVES to read.  She'll spend hours each day lost in the world of her books, losing herself in the stories.  She devours books just like I did (and still do) when I was little- although she likes to read and reread the same stories over and over again and I really didn't do that very often.  She's also very inquisitive and wants to learn and know about EVERYTHING — which is why I was eager to check out the Gannon and Wyatt books.
Given that this adventure series is geared for middle-grades, I've asked my daughter to give HER thoughts on  Travels with Gannon and Wyatt: Egypt.  She read this book in one sitting and immediately wanted to start the next book (although had a soccer tournament so wasn't able to right then).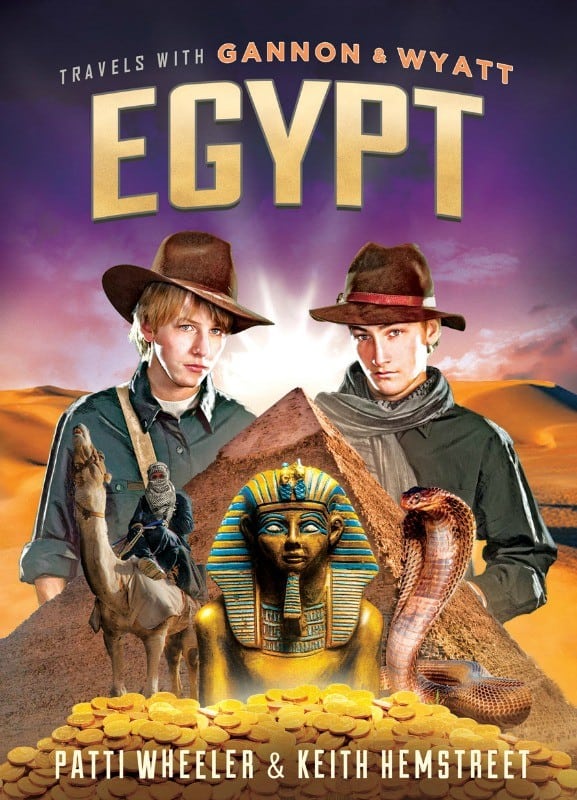 In the beginning of the book, this really surprised me, but the two boys sent out a letter to some people- a poem or something- and they got picked to go to Egypt but only one got picked and he asked his mom if he could bring Wyatt with him to Egypt since they both really wanted to go there. Once they got there, after a really long trip to get there, they had to travel more to get to their hotel.  They met a girl when they got to the hotel and they got to hunt for Cleopatra's tomb.

Once the boys found Cleopatra's tomb, they found gold and jewelry and other treasure. The leader of their hunt told the kids they had to put their treasure into a museum case.

This is one of the best books I've ever read.  It had something to pull me in and not want to put it down.  It really interested me because both of the boys got to travel to Egypt and they had really cool adventures. There were a lot of surprises that kept my interest. The boys never left Egypt to go back home at the end! Can you believe it!
The Travels with Gannon and Wyatt series include:Botswana (released May 2013), Great Bear Rainforest (released October 2013) and Egypt (to be released January 2014)
Three Kindle Fires are being given away on the Travels with Gannon and Wyatt Facebook page in November. My kids love our Kindle Fire!! 
One reader will win a set of all 3 Travels with Gannon and Wyatt books! (ARV $38.85)
I was selected for this opportunity as a member of Clever Girls Collective and the content and opinions expressed here are all my own.
0