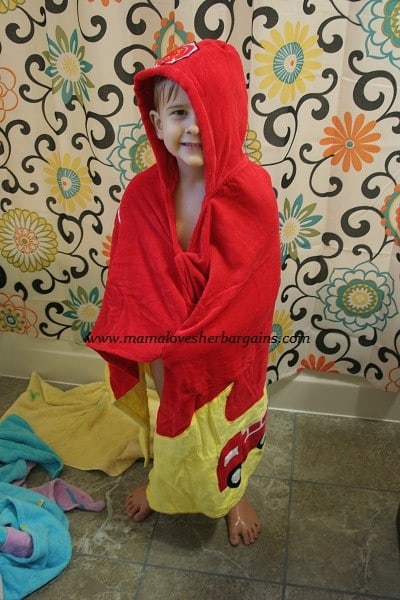 My kids have kind of outgrown all of our fun towels.  It's kind of sad, for me.  I know they will grow older, but can't they have fun and be super cute while growing older?  I was happy to see Kidorable's current Hooded Towel promotion.  Adorable and FUN towels that are big enough even for my 7 year old (the larger size, size M, is for ages 3-6 but most styles are very generously sized to get you several years of fun (dry) use!)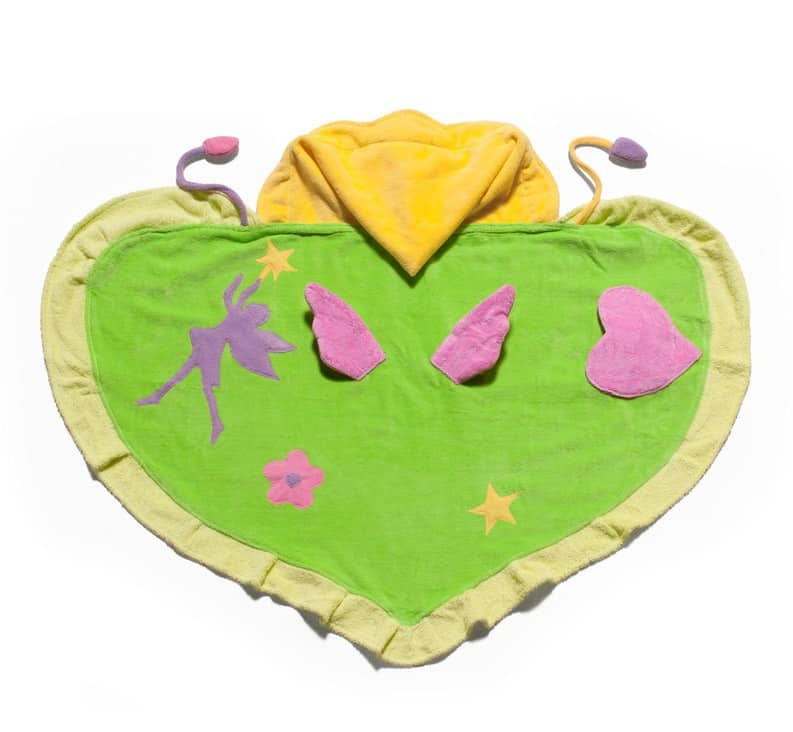 All of the Kidorable towels we have had to date except for the Fairy towel have a snap to keep the towel secured in front- which means kids are able to wear it as a towel, or a coverup at the pool/lake…but also means they can use their towels for dressup and pretend play.  You can see by the photos that the fairy towel has a bit of a different shape and this one does not have the snap- it has a lot of cool embellishments on it that make it so much fun instead!  That's one thing I really like about these towels- they are soft and plush, yes, but also made so that kids can use them- and want to use them.  The Mermaid towel has shell pockets- which, if you know any 2-4 year olds, are huge.  Add a pocket to something, and you have given them a magical gift.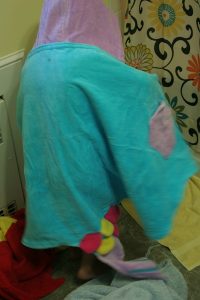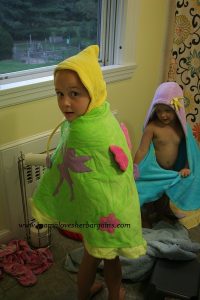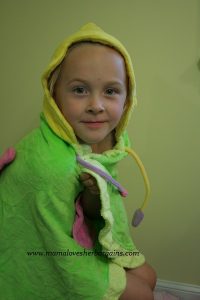 From September 15-30, you can save 20% off your entire order when when you purchase one of their super soft cotton hooded towels.  Use code DRYOFF33 at checkout!
Our customers tell us that our towel designs are the best anywhere.  Now our towel quality leads the industry as well.  The old material was a soft and absorbent terrycloth.  The new material retains all that is good about that, and adds a layer of super soft velour.  The result is an equally absorbent, and now lighter, brighter, softer towel.  These quality towels come in two sizes—newborn to two years, and ages three to six.  Check out all our towel styles for girls and boys!
These towels make wonderful gifts- I can't tell you how many times I hear from parents that their kids don't need any.more.toys.  Why not a fun towel that will get tons of use?  They are priced at $38 each but with the 20% discount, you'll pay just $30.40 and have a gift that will be used over and over.
Kidorable would like to send one reader a hooded towel of their choice!  
Loading Entry-Form…
…
Samples of this product were received to facilitate my review. Opinions are my own. 
0