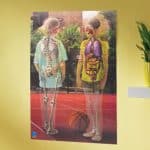 I don't know about your kids, but mine have a fascination with the human body.  Be it bodily functions, how the moves and works, what bones look like, etc….  They love anything that has to do with the body.  I suppose they could have gotten this trait from me.  I always loved science and majored in Biology in college.  We have numerous books and puzzles that focus on the skeletal and muscular systems.  However, we did not have a human body poster.  Educational Insights has offered up another great review and giveaway this month.  We had the opportunity to review the Lenticular Human
Body Poster this month.  This is a large poster that features 4 layers of the human body in one poster.  It is the perfect size for hanging on the back of a bedroom door.  My kids were mesmerized by the changing image as they rotated the poster.  I think they found in particularly intruiging that the poster features 2 small children, which makes it more relatable.
19″W x 27″H lenticular poster
Presents multiple layers of human body in magical way
Includes outside, skeletal system, muscular system, and organs
Packaged in polybag with header card
Associated reproducibles posted online
Grades 1+ and ages 6+
This poster is now a permanent fixture in my 5 year olds room.  It has sparked many questions about how the body works and moves.  This has been a great educational tool.  We have taken the opportunity to look up different muscles and bones on the computer and relate them to the poster.  I love how sturdy this poster is.  It is nearly impossible to bend, crack or tear.  With two small children, being indestrucable is a must!  I can easily imagine that my children will enjoy this poster of the human body for several years.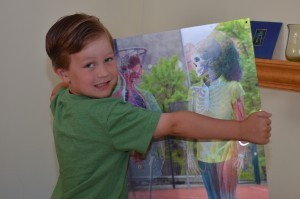 This poster retails for $19.99.  As always, Educational Insights offers online guides for their products and this is a great one.  It comes with fill in the blank images of each of the 4 layers represented in the posters, with a word bank to choose from at the bottom.  Along with the worksheets are anwer keys for the parent or teacher.  This is a great introductory way to learn about the human body.  I highly recommend this product for any little one who is interested in science and/or the body.
One reader will win  their own Lenticular Human Body Poster from Educational Insights!
Mandatory Entry: Leave a comment with your name and be sure to include a valid email address in the comment form!
Extra Entries:
1.  Follow Educational Insights on Facebook
2.  Follow me on GFC, Facebook, Twitter or RSS/Email Subscription (+1 each)
3.  Share this giveaway on any social networking site (leave URL of your post please!! hint: right click the time stamp!!) #win a Human Body Poster @EI from @mamatomjr http://wp.me/p1qA6G-2D3  (can be done 2x day at least 1hour apart)2x/day at least 1 hour apart
4.  Visit Educational Insights and tell me another item you'd like to try
5.  Leave a comment on any non giveaway post +1/post up to 5 comments
This giveaway will end on August 1, 2011 at midnight, EST. US only. Winner to be chosen randomly. Winner has 48 hours to respond to my email or a new winner will be chosen.
I received a sample of this product to facilitate my review. All opinions expressed are my own.
0