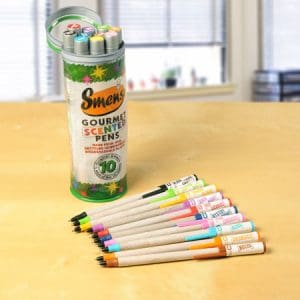 Educational Insights sent us a 10 pack of Smens® Pens.  These are environmentally friendly pens that smell fantastic, and aren't harmful to our earth.  They look pretty cool, too.  In theory, these are great for kids, you know, because of the scents.  I kind of don't want to share them at all, with anyone.  So I maybe tucked them in a dark corner of the cabinet, in hopes the kids will forget about them…..can you blame me?
We were very excited to try these.  The pens come in a cool cylindrical pouch that has a zip closure at one end.  Each pen is in a biodegradable plastic tube, so that the smells aren't all mixed together and they stay fresh.  (I can't imagine that 10 scents mixed together are going to smell very good, and each smells great individually so why not keep them that way!?). 
I LOVE that when you are done with these, they won't spend forever in a landfill.  If I can swing it, I will always choose products that are friendly to our earth and not harmful, and it is clear that the folks at Smens really take heed of that school of thought since the pens themselves are constructed from recycled newspapers, which are soaked in the scents, and then kept in the above mentioned biodegradable made-from-corn plastic "freshness" tubes.
The ink is black, I'd love love love if you the ink matched the cap color, but that'd probably drive the cost up too much and I'm not sure if they can do colored ink in an eco friendly way.
When your Smens run out of ink, you can always keep them in a drawer as a freshener until the scent runs out, but my favorite part is this:  You can put them in your recycle bin!  No waste, no trash!!
These are a great way to keep the kids busy on a rainy summer day, or to let them keep up with their summer journal, practicing handwriting or sending a note to grama.
One reader will win a 10 pack of Smens® Pens from Educational Insights!
Mandatory Entry: Leave a comment with your name and be sure to include a valid email address in the comment form!
Extra Entries:
Follow Educational Insights on Facebook
Follow me on GFC, Facebook, Twitter or RSS/Email Subscription (+1 each)
Share this giveaway on any social networking site (leave URL of your post please!! hint: right click the time stamp!!) #win a set of Smens pens #green #recycled #ecofriendly by @Smencils @EI from @mamatomjr  http://wp.me/p1qA6G-2ik (can be done 2x day at least 1hour apart)2x/day at least 1 hour apart
Visit Educational Insights and tell me another item you'd like to try
Leave a comment on any non giveaway post +1/post up to 5 comments
This giveaway will end on July11, 2011 at midnight, EST. US only. Winner to be chosen randomly. Winner has 48 hours to respond to my email or a new winner will be chosen.
I received a sample of this product to facilitate my review. All opinions expressed are my own.[ad#glam between posts]
0