Kissaluvs has some fun new products coming out and I"m one of the first to try them.  The first thing we'll be sharing with you is the new antibacterial wetbags.   Regardless of if you use cloth diapers or not, wetbags are something I can't imagine living without.  Anything damp, wet or just moist can go into a wetbag- not just diapers.  They just happen to be marvelous FOR diapers.  (I myself have used wetbags for bathing suits, soiled clothing, toiletries, and a makeup bag in addition to diapers!!)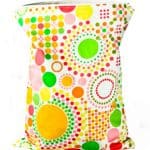 The Kissaluvs wetbags come in 3 prints- bold, bright and fun.  They sent me Spring Circles and I love the look!! These are definitely smaller than most wetbags I've had- or have- but I'm ok wtih that- my littlest one is 21 months old and we're not needing as many diapers on outings, and she's begun to use the potty anyway so its likely we'll be bringing trainers and/or underwear for her sooner than later, which take up  less space than diapers.  These are a compact 10×13 size bag with a zipper closure (which is key, in my experience, with any wetbag!!).
What stands out about these bags is that they are antibacterial.  The PUL inner of these bags is treated with SILVERPLUS® antimicrobial effect, which is Okeo-Tex Standard 100 compliant. This special finish also helps reduce unpleasant odors and protects against the spreading of health hazardous bacteria which can sometimes collect on soiled diapers.  We all know diapers can and will be gross- its the nature of a diaper!  Especially if you aren't going to be home for a while it is nice to know that the bag the diaper is not going to share its bacteria before you can get it washed. This also contains ODOR.  So no stinky diaper smell surrounding your adorable wetbag!!  A cute way to contain the ick is awesome with me.
I love the size, I love the antibacterial properties of these bags, and I love the prints.  Definitely a win from me.
I noticed when looking around that they make a pail liner with the antibacterial PUL as well- THAT is something I'd love to have as a cloth diapering mama!!
**Kissaluvs and I  have a few more surprises coming your way in the next week or so– stay tuned!! 
Don't go too far- THREE of my readers will win one of the brand new antibacterial wetbags from Kissaluvs for themselves!!
Mandatory Entry: Leave a comment with your name and be sure to leave a valid email in the comment form
Extra Entry:
Visit Kissaluvs and tell me another item you'd love to try.
Like Kissaluvs on Facebook or follow Kissaluvs on Twitter +1 entry each
Share this giveaway on any social networking site: @Kissaluvs has new #antibacterial #wetbags for #clothdiapers and @mamatomjr is giving one away #win http://wp.me/p1qA6G-1Kx (can be done 2x/day at least 1 hour apart per share site)
This giveaway will end on June 5, 2011 at midnight, EST.  US only. Winner has 48 hours to respond to initial contact or a new winner will be chosen.
I received a sample of this product to facilitate my review.  Opinions expressed within are my own.[ad#glam between posts][ad#glam between posts]
0