Now, we are coming to the END of cold and flu season (oh goodness, and not a moment too soon for THIS mama!!) but with the end of cold and flu season comes allergy season…so we're still in prime tissue-needs around our house.  My poor little guy has some seasonal allergies that usually kick in right around mid-March but have started early this year thanks to our mild winter, so I've been keeping our shelves stocked with spare boxes – and our go-to tissue brand?  Kleenex® Facial Tissue.  I like to have at least 3 spare boxes downstairs at all times "just in case"– tissues to me are kind of like toilet paper- I can't bear the thought of running out and have to always have a nice stockpile just in case.
Since we always have so much Kleenex on hand, it seems to make sense that we buy it in bulk quantity.  This way, we have boxes for each bathroom and our living room, a few spares, AND, I can share boxes with friends or family who may have a sudden illness come up and find themselves without.  Before we had a larger family or this house, when we didn't need so many tissues, I used to go 'halfies" on products in bulk with a friend or neighbor- I like the savings I find at places like Sam's Club!  I always send a few boxes in for the kids' classrooms at school, too.  

During cold and flu season (or anytime actually), you want nothing but the best for your family. Treat them well with Kleenex® Facial Tissue, America's Softest Tissue. It's so soft you'll want to share the softness with a family member, a friend, or even a coworker. Since you'll be getting 10x the softness in a Kleenex® Facial Tissue 10-pack, there are a couple of ways to share.

1. Grab a friend and take her or him to your Sam's Club to save by splitting the already affordable price of a 10-pack

2. Send the little ones (or even the big ones) to school or work with a box of Kleenex® Facial Tissue

No matter who you decide to share America's Softest Tissue with, you'll be getting the great value at Sam's Club. Actually, you can save up to $5.99* on (a 10-pack bundle of Kleenex®) at Sam's Club! Visit http://bit.ly/Kleenex_SC to find out everything you need to know about the Kleenex® Facial Tissue 10-pack.
*Kimberly-Clark calculation based on comparing the average non-promoted price per unit of Kleenex® facial tissue vs. average non-promoted retail price from a combination of grocery, drug and mass outlets for 26 weeks ending 1/16/12.
One reader will win a 10 pack of Kleenex and a 1 year Sam's Club Membership! A $52.98 value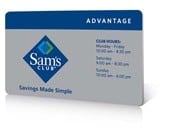 a Rafflecopter giveaway

This post is brought to you by Kleenex and Sam's Club.  Opinions are my own.
0