I know a lot of people have hardwood and tile floors nowadays.  While they look fabulous and are a breeze to clean, they aren't so nice on a new crawlers little knees.  Ah Goo Baby has solved this problem.  They have just released a new product called Kneekers.  Sneakers for your knees.  Kneekers slide onto your baby's knees and protect them from scrapes and soreness.  They also help to cushion the fall during those early walking months.  They are made with a woven elastic/cotton knit sleeve and protective outer shell around the knee.
Kneekers® slide onto your baby's knees and protect them from getting scraped and sore. Babies typically crawl between 7 and 11 months of age and then practice walking for a few months after that, when falling to their knees is common.  Kneekers® was designed to make crawling and learning to walk more comfortable for your baby.
The cushioned padding and protective outer shell cradles your baby's precious knees to shield them from carpet burns, other rough surfaces, and abrupt falls.  Kneekers® are also designed for style with a soft, woven elastic/cotton knit that will nicely compliment your baby's outfits.
Durable, machine washable and dryer safe
BPA Free
Prevents carpet burns and scrapes while crawling
Protects delicate knees from falls while learning to stand and walk
Affordably priced at only $12.95 for your baby or as a gift to a freind's!
A fun accessory your baby will love!
I don't have a little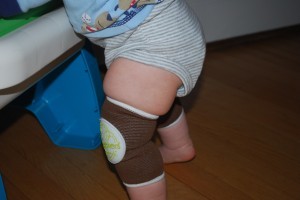 crawler in my house right now, but my girlfriend's little boy is just learning to crawl and she g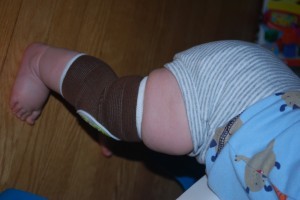 ave these a try.  She thought that this was a a very creative product overall.  They would be great for the summer when the baby is not in pants.  He was able to comfortably wear them for about 30 minutes.  When he was crawling and moving the Kneekers did not seem to hinder his movement at all and did offer a nice buffer between his knees and the hard floor.  I think they are cute and well designed.  In addition, Kneekers is coming out with a new product called Chunkalicious.  These are the same as the original Kneekers, but are sized larger for babies with chunkier thighs, or to fit over pants.  I think this larger size is a great idea.  So many of us have babies with a little extra blubber on those legs!!  Chunkalicious sized Kneekers will be available next month.
If you have a little crawler in your house I definitely think it is worth checking out this product.  I think they are a great idea, super cute and will help to protect those little kneecaps.  And for $12.95 you can't go wrong!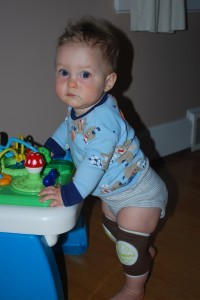 Ah Goo Baby is offering one reader their own pair of cute Kneekers to try on their little crawler!
Mandatory Entry: Leave a comment with your name and be sure to use a valid email in the comment form!
Extra Entries:
Like Ah Goo Baby on Facebook and leave a comment telling me you did.
Follow Ah Goo Baby on Twitter
Follow me on GFC, Facebook, Twitter or RSS/Email Subscription (+1 each)
Share this giveaway on any social networking site (leave URL of your post please!! hint: right click the time stamp!!) " #win #Kneekers knee pads for crawlers from @ahgoobaby @mamatomjr http://wp.me/p1qA6G-YR (can be done 2x/day at least 1 hour apart)
Leave a comment on any non giveaway post +1/post up to 5 comments
This giveaway will end on June 10 2011 at midnight EST.  US only. Winner to be chosen randomly.  Winner has 48 hours to respond to initial contact or a new winner will be chosen.
I received a sample of this product to facilitate my review.  Opinions expressed within are my own.
[ad#glam between posts][ad#glam between posts]
0