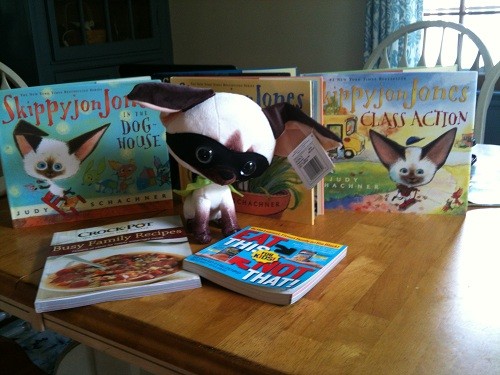 The Kohls Cares for Kids initiative has several hilarious Skippyjon Jones books (written by Judy Schachner)available for purchase, with some of Skippy's favorite amigos to go with the books.   Kohls is supporting children's health and education initiatives nationwide that donates 100 percent of the net profit from every purchase of Kohls Cares for Kids products.
Included in this promotion :
Skippyjon Jones – We meet Skippyjon Jones, a Siamese cat who's got a vivid imagination and a mama who wants him to be a cat.  Each is full  of silly wordplays, tons of fun rhyming, and lots of Spanish phrases.  Children delight in this stories about the lovable Skippyjon Jones!
Skippyjon Jones, Class Action – Skippyjon Jones sneaks into doggy obedience school.
Skippyjon Jones in the Dog House– Skippy is in his room for time-out hides from Bobble-ito with his amigos
Skippyjon Jones, Lost in Space – Skippy is off to prove that Mars is red because it's covered in spicy red pepper.
Skippyjon Jones and the Big Bones – Skippyjon Jones heads into dinosaur land to find  Skipposaurus. This book and  the Skipposaurus plush are available exclusively at Kohls.com!
There are also a backpack for kids and notecards featuring images from various Skippyjon Jones books, and some cookbooks available to support Kohls Cares for Kids: Campbell's Best-Loved Recipes and Crock-Pot Busy Family Recipes.
I'm actually going to order a few of the backpacks- we like to do some school supply donations each year and a $5 backpack is the PERFECT price- plus our help goes a bit further with the proceeds going to children through Kohls as well.  
One reader will win a set of the Skippyjon Jones books, one plush from the set, and a cookbook from Kohls Cares for Kids!
Javascript must be enabled to enter this giveaway. Learn how to activate Javascript by
clicking here.

Loading Entry-Form

I received a sample of this product to facilitate my review.  Opinions are my own.