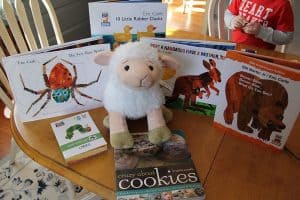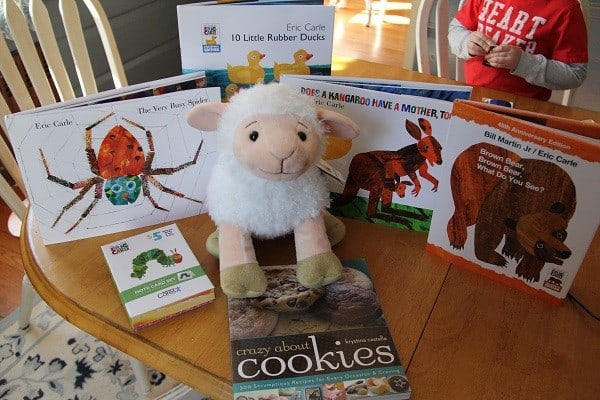 Aside from the marvelous sales oh-so-very-frequently, one of my favorite things about Kohls is their Kohl's Cares® for Kids program.  It isn't just about getting excellent children's literature at super low pricing ($5 for a hardcover picture book!!) or the super cute plush that go along with them, although that is awesome in and of itself.  The program sells kid-friendly merchandise, 100% of the net profits of which are donated to support kids' education and health initiatives all across the US.  To date, over $180 million has been donated.  That's a lot of money they've donated since the program began in 2000 and I applaud companies to have programs like this in place.
Right now, Kohl's Cares® is partnered with Eric Carle, one of my all time favorite authors for children's books!  As with all of the books and merchandise sold for Kohl's Cares, each item is just $5.  Some of our family favorites are available, including Brown Bear, Brown Bear, What Do You See?, The Very Busy Spider, 10 Little Rubber Ducks, and a new-to-my-family story, Does a Kangaroo Have a Mother, Too? which is just so sweet and I was very glad to add it to our collection.  The lamb plush that goes along with The Very Busy Spider is soft, snuggly, and beautifully done to echo Bill Martin's rendition of a lamb from the story.  The note cards are my favorite item in this line- truth be told, I've purchased 3 other sets and tucked them away.  It's the Very Hungry Caterpillar's fault, not mine.  I can't resist.
There's also a "crazy about cookies" cookbook which will delight your tastebuds and make for a very sweet family afternoon if you want to bake some cookies with your little one and then snuggle up on the couch to read a story or two while they bake.
One of my readers will win a Kohl's Cares prize pack including each of the books pictured here, the notecards, and one of the plush animals from this line (based on availability).
I received a sample of this product to facilitate my review. Opinions are my own.
0