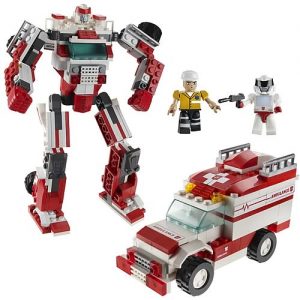 Building blocks and Tranformers are very popular around this house.  So I knew my son would love this set for his 7th birthday.  KRE-O Transformers Autobot Ratchet set can be made into an ambulance or Autobot Ratchet.  My son and husband loved building this set together.
With 187 bricks and other construction pieces, you can build the heroic AUTOBOT RATCHET character in either robot or vehicle mode with just one set! In robot mode, your AUTOBOT RATCHET figure is an intimidating force.
Build your favorite Transformers hero, Autobot Ratchet, in vehicle or robot mode with this 2-in-1 set of KRE-O construction pieces. It includes 2 Kreon figures: Autobot Ratchet and Medic. The KRE-O construction set lets you build Autobot Ratchet as a robot figure or as an ambulance. In vehicle mode, put your Kreon figures in the back or the front seat of the ambulance. The set includes 187 KRE-O pieces and stretcher and fire axe accessories.
Here is the ambulance my boys made!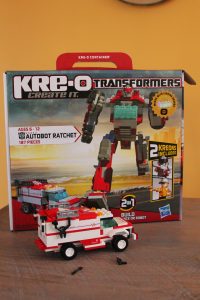 Available at most major retailers nationwide and HasbroToyShop.com

Hasbro entered the world of construction-based play this year with the introduction of twelve KRE-O TRANSFORMERS construction brick playsets, ranging from basic sets priced at $7.99 to deluxe sets priced at $59.99. Perfect for both brick and Transformers fans of many ages, the KRE-O TRANSFORMERS sets offer the following:
·         Value: KRE-O construction sets are compatible with other leading construction sets available, so users don't have to invest in a new brick system. Expand the brick collection you already have at home and don't worry if bricks get mixed together in the toy chest!
·         Action: Build favorite characters from the classic Transformers universe, including Optimus Prime and Bumblebee, in either robot or vehicle mode
·         Fun: Collect and build unique, poseable KREON figures in both robot and human form
·         Deals! Add KRE-O TRANSFORMERS playsets to your construction collection with a Coupons.com coupon for $5 off your KRE-O purchase of $20 or more!
Please use the following link to access and share a $5 off any KRE-O set purchase of $20 or more coupon: http://bit.ly/n4xblw This coupon will be live on Coupons.com while supplies last, through 11:59 PM on November 27, 2011. We are also currently hosting "The Great Brick Giveaway" where we are giving away one KRE-O set every hour for six weeks! You can go to http://hasbro.promo.eprize.com/kreo/ to enter to win one of over 1,000 KRE-O sets.
One Winner will win a KRE-O Transformers Autobot ratchet set


I received a Kre-o set to facilitate the review. All opinions are my own.
0