Lalaloopsy™ Sew Magical Mermaid™ Doll

Sewn from a swimmers bathing suit, Coral Sea Shells™ loves to imagine she's a mermaid.  When she does, she changes from her bathing suit into a mermaid tail and her hair changes color under water! Ages: 4+ Price $29.99.
I love Lalaloopsy dolls.  Probably more than my kids do.  I just think they are beyond adorable and I love the whole idea of their creation, with the personalized stories and outfits each of the dolls wear.  I think they are fun, quirky and adorable- which is exactly how most kids are- so they are a perfect, whimsical addition to any kids' toy collection!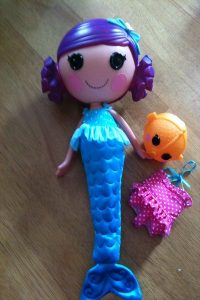 Coral Sea Shells is no exception- she's "stitched" on World Water Day (how cool is that) which is March 22nd, and she comes with both a mermaid tail and an adorable pink polka dot bathing suit (which feels like it is made from the same suit material as my own!) plus a little blowfish pal to play with her, or as my kids like to do, squirt mom in the face with water!
Cute as she is, I think my favorite part of Coral is that her hair changes color when it is under the water.  You don't need a temperature change in the water to get the hair change- something that really just hasn't ever worked well with toys that promise color changes due to temperature fluctuations and I find this to be so much less frustrating.  I also don't like doing hot water for my kids, for fear of burns or drying their skin, so the fact that her hair changes just by being in the water makes me one happy mama.  The kids love this feature, although they don't always notice because Blowy the Blowfish, as they call him, is the big draw for playtime around here.
Lalaloopsy Sew Magical! Sew Cute!

Lalaloopsy Coral Sea Shells was once a rag doll who magically came to life when her very last stitch was sewn. Coral Sea Shells was made from pieces of  a swimmers bathing suit. She's super- imaginative and she loves to pretend she's a real mermaid. Her favorite hobbies are swimming with the fish and eating seaweed salad. She has a pet blowfish.

Sewn on Date: March 22nd (World Water Day)

Features:


Coral Sea Shells hair changes color from pink to purple under water!
Includes two fashions: bathing suit and mermaid outfit
Adorable pet blowfish squirts water
Totally collectable!
One reader will win a Coral Sea Shells mermaid doll!
I received a sample of this product to facilitate my review.  Opinions are my own.
0