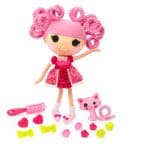 Lalaloopsy™ Silly Hair Jewel Sparkles™ Doll is adorable. I don't know what else to tell you. I mean, they are cute and fun to play with, but the whole entire Lalaloopsy line and concept to me are just adorable!! I love them!! Last year we got a Peanut Big Top Lalaloopsy doll, and this year we got to check out the new Silly Hair line. So much fun.   Jewel Sparkles is secretly my favorite in the line anyway because she's pretty much head to toe in pink, which is my favorite color. 
Oh wait. I do know what else to tell you. The Silly Hair line from Lalaloopsy is the same line of characters (with the same catchy jingle), just with a twist- a silly twist.  You can style their hair now!! This is something my kids love to do- styling hair is fun for all ages, and colorful hair just makes it more exciting. 
The Lalaloopsy are rag dolls that magically came to life, taking on the personalities of the fabrics that were used to make them. They live in a colorful, silly world where you keep the magic alive. Silly Hair Jewel Sparkles has wacky, wild hair that really bends!

This Lalaloopsy has silly hair that bends every which way! Now you can style your Lalaloopsy doll's hair and her pet's tail too!

 

I want to play with this, and love it to pieces with the kids- but we decided that this would also be a special toy that another family would appreciate, a family that maybe is down on their luck and could use a little kindness from strangers.  So November 7 this went to my kids' school, to a donation box to be sent to a family in need.  So you will see the photo of this and some other toys, but I hope you understand that while we love the toy and would adore playing with it, we also see that so many others have less than us, and we have decided as a family that we also want to pay things forward. 
Lalaloopsy with wacky, wild hair that really bends!
Hair allows you to curl, twist and straighten
Includes fun hair styling brush, 4 clips, and 6 hair beads
Endless silly styles!
Pet has matching bendable tail
One reader will win the Lalaloopsy™ Silly Hair Jewel Sparkles™ Doll


I received a sample of this product in exchange for the post. Opinions are my own.
0