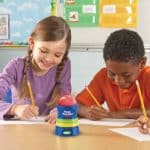 Learning Resources hit another parenting need spot on with their Time Tracker® Mini.  This little blue time tracker has been helping in a huge way in helping my kids "get" when something is going to happen- from time outs to their sister getting off the bus, to needing to get ready FOR the bus, how much time someone has with a toy, etc.  The mini time tracker not only functions as a timer but the d0me shaped top also lights up red, and then yellow, and when it is time, green.  The visual cues have made a huge difference in the struggles we sometimes have over timing issues- I don't get asked every 4 seconds "can I come out of time out yet" or "is it my turn to play with that toy" or reminding kids to get shoes on.  Now, I can set the timer and say, when this goes off, and the light is green, we have to put shoes on and go leave for school.  You can play, do xyz, until the light is green.  They can look over, even my 2 year old, and understand that no green=its not time.  I love it.  The small size means I'm not searching for someplace to store this thing and it's easy to bring wherever, around the house or outside.  Let's face it- waiting, time lapsing, etc, are hard for kids (and me) and any way I can help to facilitate transitions or waiting is a good thing!
The Time Tracker Mini is also great for teachers and students alike in many of the same ways it is good for parents and families at home. The visual and auditory signals really helps children – and teachers- to anticipate timing.  (See embedded video below)
Offers unique visual and auditory indicators, including a warning alarm
Operates easily with just 2 dials: total alarm time and warning time
Provides flexibility with total alarm time range of 5 minutes to 2 hours, in 5-minute increments
Counts down until the colored light glows and the alarm sounds
Supports visual-only timing when you adjust volume or turn off the sound completely
Measures 3.25″L x 3.25″W x 4.75″H
Requires 3 AAA batteries, not included ARV $19.99 (available in 1/12)
Let's Tackle Kindergarten arrived at a time when Jenni's oldest son, who is in Kindergarten, was struggling with a few concepts, and she wanted to reinforce some things at home.  I'd originally wanted this kit because my son is really wanting to do more with me, but we sent it up the road to Jenni's house.  We both like that while this kit is really a teaching and learning tool, full of resources and manipulatives to reinforce the concepts taught and learned in Kindergarten, to a kid, it's a fun tackle box, filled with things to play and do- although my son doesn't understand why there aren't worms to sort and count with since you use a tackle box for fishing!!  He doesn't mind the pets, nor have an issue, but in his mind, it's a tackle box, so there should be worms for sorting.  I really like that the included activity book is a wipe-off book.  Less waste and I can keep using it!
I haven't really begun exploring this kit with my little guy just yet, while he's still interested in and asking about the activities in the box, he's also very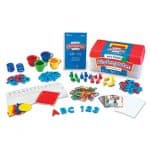 into building and imaginative play right now so we've been doing a lot of building blocks instead of school time.  I have a feeling we'll be delving more and more into this tackle box over the winter vacation and more and more overtime.  The kit is good for ages 3-6, so all of the kids can play and benefit from having this around- and if I'm doing some letter skills with my 4 year old, my 2 year old can do some sorting and counting of the pets, or work on letter identification herself if she's showing interest.  There's time for it.  I like having  a container that holds this all together for both storage and simplicity- it's fun and educational in one place.
10 Double-sided photo cards
4 Stacking cups
60 Plastic links
Bean bag
2 Foam dot dice
8 Attribute blocks
26 Uppercase letters
26 Lowercase letters
20 Numbers
16 Pet counters
Write & wipe board
24-page Activity Book with checklist
Plastic tackle box with sorting tray
ARV $44.99
One reader will win a Time Tracker Mini and a Let's Tackle Kindergarten set!
I received samples of this product to facilitate my review.  Opinions are my own.
0