Enter to win a 3-day family getaway to Yosemite National Park in the Camp Barbie Sweepstakes!  Each week two winners will also be chosen each week to receive a $100 Walmart gift card! Plus, while you are there, get a sneak peek of the new Barbie Princess Charm School movie- which is a wonderful family movie that my kids and I have watched several times already!

Watch "A Camping We Will Go!" Watch an exclusive video of A Camping We Will Go! and other videos from Barbie including a sneak peek at Barbie Princess Charm School. The summertime fun never stops at Camp Barbie!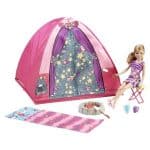 In celebration of Camp Barbie! one of my readers will win Barbie Sisters Camp Out! Tent and Stacie Doll




I received compensation for sharing this post. Opinions are my own.
0