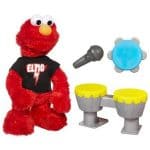 Let's Rock! Elmo may very well be one of *the* hot toys for the preschool crowd this year.  It's got the components that kids love- you can play with it, sing with it, dance with it, and interacts with them.  Music, technology and entertainment in an adorable, furry red package.  The black tshirt Elmo's wearing helps him look the rock star part for sure!  I love that Elmo interacts with the other instruments in the LET'S ROCK line- offering the juice box crowd a way to form a friendly (and age appropriate) little rock band of their own. 
My kids love music, they love technology and they LOVE to sing and dance so I had to jump at the chance to check out this new Elmo- and I'm so glad I did!  He's so cool, and so much fun- plus, even though he's a cool rock star, Elmo stays true to his roots- he remembers to say please and thank you when asking for and receiving his instruments.  The songs he sings are also very appropriate (including Elmo's World).  
One thing that immediately stuck out to me is that Elmo really does interact with the instruments.  He shakes the tambourine, lifts the mic to his mouth, sometimes even when humming, and pounds on the drums with his arm- sometimes both arms.  Sometimes "interactive" toys don't necessarily work properly- but as you can see in this video, which I had to do when the kids were alseep (because I can't get a minute alone with Elmo to let him do his thing to show you all!!) down in the basement…but you can see just how much he interacts with the drums, the tambourine and the microphone that come along in the box with Let's Rock! Elmo.
Friends of mine saw sneak peeks of Let's Rock! Elmo at Toy Fair in February but I hadn't heard much about him until recently.  I've never actually owned an Elmo toy (shocking, I know, me, with all the toys I love to have), and I guess I was out of the Elmo loop.  Elmo ROCKS.  Really.  Perhaps its the cuteness of Elmo combined with the cuteness of the kids playing, but check this out:
Coming this September 20th …It's music time! Rock out with LET'S ROCK Elmo! Dressed in a concert-style tee, Elmo takes the stage singing and making music – and preschoolers can too! Elmo comes with his very own microphone and two instruments – a tambourine and a drum set. Preschoolers can choose which instrument Elmo plays, and he "magically" recognizes which one you give him. Kids can also play along on Elmo's instruments – they're perfectly sized for little hands! For even more rockin' fun, Elmo also interacts with other LET'S ROCK instruments (each sold separately); he knows when you're playing the LET'S ROCK Guitar, Keyboard or Microphone and plays along with you! The LET'S ROCK Elmo toy sings six rockin' songs, so grab an instrument and join Elmo's band!

Figure comes with microphone, tambourine, drums and instructions.

Includes 6 "AA" batteries.

Ages over 18 months to 4 years.  ARV is $69.99.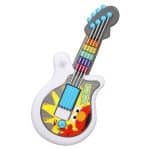 Other items in the Let's Rock line are the Let's Rock! Elmo Guitar, Let's Rock! Cookie Monster Keyboard and Let's Rock!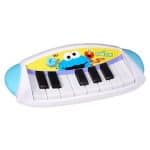 Grover Microphone – each of which interact with Elmo and can be played separately.  This can make for a lot of fun especially when you have kids in a group or siblings!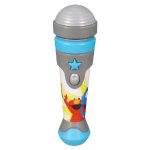 I love this new Let's Rock! Elmo and I am sure that you will too- and ONE of my readers will receive Let's Rock Elmo too!!



I received a sample of this product to facilitate my review.  Opinions are my own.
0