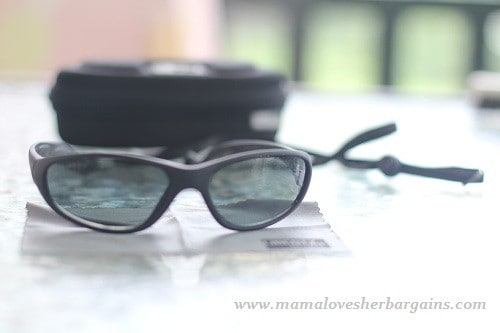 My husband has to wear polarized sunglasses whenever he's outdoors.  His eyes are very sensitive to the light and with polarized sunglasses, he is able to be in the sun for longer periods of time.  Liberty Sport sent us their Biker Polarized Sunglasses for Mr. Bargains to try recently.  These glasses are great- super lightweight, they come in a protective case, and are a huge help to him with his comfort level outdoors.  Mr. Bargains really likes the lenses on these glasses- unlike many, these have a lens that kind of wraps the eye, so his peripheral vision isn't affected.
These are nice, quality sunglasses.  Well made, built to last, and comfortable to wear.  They look good and hold up (we have three kids.  Things happen.  The glasses held up).  At $99 they are definitely in the affordable range, especially given the quality of materials.  I love that the case also includes a lens cloth and a cord to keep your sunglasses close at hand when on the go, especially when doing outdoor activities!

8-base wrap around lens curvature delivers excellent peripheral field of vision.
Raised eyerim back lip provides additional lens retention.
Head hugging, flexible temple design fits comfortably under most helmet designs.
Plano frame comes with Liberty Sport Ultimate Polarizedpolycarbonate premium performance sun lenses:

Hard Coat Premium Scratch Coating.
100% UVA & UVB Protection.

Comes with semi-rigid case & adjustable strap
One reader will win a pair of Sports Sunglasses from Liberty Sport!
Javascript must be enabled to enter this giveaway. Learn how to activate Javascript by
clicking here.

Loading Entry-Form

I received a sample of this product to facilitate my review.  Opinions are my own.
0