Every so often, a film comes along that just gets everything right.  The story, the casting, the set, the music- and 2012's Lincoln is one of those films.  It's got all of the components of most great movies, the ones we seek to watch over and over, and it's got a little something extra- the historical piece.  While this is not the exact story of what happened during Abe Lincoln's life, this film does a really great job of telling the story for film, based on true events.  We did not end up being able to see this movie in the theaters, which I'd have loved to do, but I'm glad we have it for home viewing. I know we'll watch it again and again, but I also know as the kids get older and start learning more about our nation's history that we'll be sharing with them as well.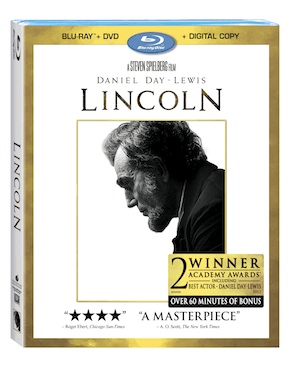 I was a little (pleasantly) surprised at how well the film kept my interest. I mean (this is NOT a spoiler alert), Lincoln dies, so there's that anticipation.  But  I was still really involved with the film and enjoying the entire movie.  Even with the knowledge that the main character expires before the end.

Inspired by the true-life events confronting Abraham Lincoln and his monumental moral and political challenge to amend the United States Constitution to permanently abolish slavery, "LINCOLN" is a rich and compelling historical and human drama that has been hailed as one of the best film of the year. In-depth bonus features on the Blu-ray/DVD Combo Pack takes viewers behind-the-scenes of director Spielberg's life-long fascination with Lincoln and the 12 years it took to bring the story of one of history's and mankind's greatest triumphs to the screen.

THREE readers will win a BluRay DVD combo pack of LINCOLN!
I received a sample of this movie for my review. Opinions are my own.