After cloth diapering for over two years, I've tried a lot of different laundry routines. One thing I love to experiment with is laundry detergent, so I was happy to try out Little Love Buns detergents and wipes bits! Dallas, mom of three and creator of Little Love Buns has been cloth diapering for years, and created her detergent to help with skin sensitivities in her own children.
First, I was impressed with the packaging of the product – I've heard horror stories of other CD moms getting leaking packages of detergent (not from LLB of course!), but Little Love Buns packs their bags well! My box came with two very securely sealed bags of detergent. The wipes bits were bubble wrapped and taped into plastic cushion bags AND had a cold pack with them so they wouldn't melt in transit. That's good foresight from this business!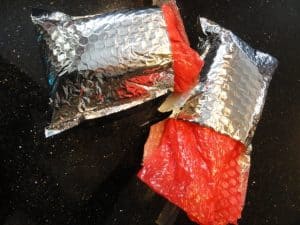 I tried out the Strawberry Watermelon and Peach Mango scents for both detergent and wipes – both are deliciously fruity, although the Peach Mango was stronger on the mango side. As far as cloth diaper wash goes, I have had zero issues using this detergent (and even scooped some into my regular wash too!). It rinses clean, not leaving a scent at all after washing, which is what a good clean-rinsing detergent should do! We have had no stink or rashing issues either. The ingredients are simple, and designed to be gentle: Sodium Carbonate, Sodium Bicarbonate, Oxygen Cleaner, Sodium Percarbonate, Sodium Borate, Fragrance Oil. (Also available without fragrance).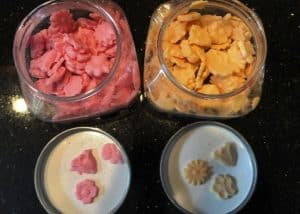 The wipes bits are cute! I have actually NEVER reviewed wipes bits before, so I was excited to try these! Molded into several different floral shapes and pretty colors to match their scents! It's easy to mix up a batch of wipe solution – I just dissolved about 4-6 into a wipes tub of warm water for a few minutes. I had to kind of mush them around with my fingers a little to fully break them up. The wipes bits (and LLB bar soap) are made with soothing goat's milk. You can request Shea Butter too if you like! I am definitely sold on Little Love Buns wipes bits!
After mixing up a batch of wipes solution, I just soaked my wipes in it and diapered away. The scent is mild so you can't really smell it unless you stick your nose in the wipes box. I like it because I don't like being overpowered with scent. And here's a great idea – uses these wipes bits for more than just wipes – try them as travel-sized soaps, in a foot soak, or in your bath (of course you'll have to add more bits for larger amounts of water)! RELAXING!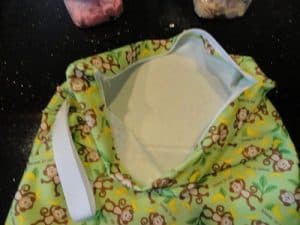 Oh also, lest I forget! Little Love Buns makes their own cloth wipes, nursing pads, diaper pail liners, and wetbags. I was lucky enough to receive an adorable monkey print PUL travel sized wetbag which we've been using regularly! It holds a good 5 or so dirty diapers, zippers shut along the top and has a snap carry strap. Perfect for a day trip! The fabric and construction are very sturdy and we love the fun print!
Another thing to love about Little Love Buns is their pricing – an 85/170 lb bag of detergent is only $11.99, several dollars less than most boutique cloth diaper detergents, and with more loads per bag! Check out Little Love Buns on Facebook, Twitter, and of course be sure to stop by their online shop!
One reader will win a Large Bag of Little Love Buns Detergent (choice of scent) and a 50ct tub of Wipe Bits (choice of scent)!
Javascript must be enabled to enter this giveaway. Learn how to activate Javascript by
clicking here.

Loading Entry-Form
A sample of this product was sent to Julie, guest reviewer for this product, to facilitate the review.  Opinions are her own.