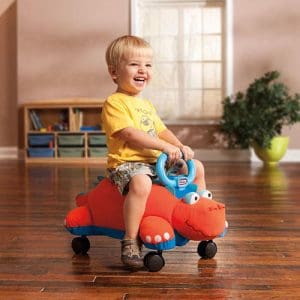 Why not surprise your little one this Easter with a Pillow Racer from Little Tikes?  I had the opportunity to review the Dino Pillow Racer with Savannah, and this has become an instant favorite toy of hers.  Just look at Savannah playing with her Pillow Racer: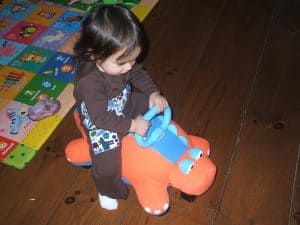 This soft-stuffed ride on toy is also a pillow – all in one!  How great is that?  For parents that don't like to spend hours trying to figure out how to put together toys, no need to worry here, as I was able to put this toy together in under 10 minutes.  And, when you covert the pillow racer to the pillow, I didn't have any issues.  Savannah loves sitting on as she watches television, in addition to scooting around the house with it.  This pillow racer is low enough to the ground that I don't have to worry about Savannah injuring herself if she slips off.
At first, it took Savannah a few attempts to get on this pillow racer, as it slides around on its coasters as you try to get on and get off the pillow pal.  I held it in place the first few times, but Savannah, like most toddlers, wanted to be independent and through a few slips on and off, she finally grasped how to get on and off safely.   And, with an easy grip handle, she is able to hold on and maintain her balance as she uses this 2-in-1 toy as a ride on.
Even though this toy is for children ages 18 months to 3 years old, Savannah is 20 ½ months old, and had difficulty in the beginning to understand that she need to push herself around the room.  She wanted me to push her around, but because this toy is low to the ground, she couldn't lift her feet up and put on a rest.  When she did try to put her feet up, she slipped off the back end.  But, in the end, this is a great ride on toy that Savannah and her friends can't get enough of.  When her friends come over, they make a b-line to this ride on, and take turns playing with it.  I know that if I had a few of these in the house, the kids will go crazy chasing each other with them.  In addition to the Dino Pal, Little Tikes is also offering a turtle and ladybug – so, both boys and girls can enjoy this fun ride on toy.  Don't worry if your little one gets the Pillow Racer dirty, as you can hand wash it.  I learned this firsthand the other day, after Savannah got her freeze pop all over it.  With a wet rag and dish detergent, her Dino Pillow Racer was good as new.
Children will have fun for years to come with this fun ride on toy from Little Tikes, as it holds children up to 50 lbs.  With Savannah only being 20 lbs. now, I know she will be enjoying this toy for the next few years, with her little sister.  So, if you are looking for a fun ride on toy to give to your little one this holiday or for an upcoming birthday, why not consider buying a Pillow Racer from Little Tikes today.  At only $39.99, this 2-in-1 toy will provide hours of entertainment, and will not be played with once and forgotten about.  Since giving to Savannah to play with, this is one of the first toys she plays with in the AM when she gets, and one of the last before she goes to bed.  I have always been a Little Tikes fan, and am happy to say that they have done it again with this great toy – that will become quickly become a hit with little ones.
–BUY NOW—
Click here to order a Pillow Racer (Ladybug, Dino or Turtle) directly from the Little Tikes website, for only $39.99, with FREE shipping.  Act now, as these ride on toys are selling out fast!
–WIN IT—
Want to win a Dino Pillow Racer for yourself?  Thanks to the folks at Little Tikes, they are offering one lucky Mama Loves Her Bargains readers a chance to win a Pillow Racer for their little one.  To enter, please complete the entries on the Rafflecopter form below.  Good luck!
Disclosure:  I was sent a sample from Little Tikes in order to write up an honest review.  The views above are mine and mine alone.
0