This morning, at 10am, I'm attending McDONALD'S® LIVE VIRTUAL COFFEE TASTING EVENT.  I'll be sipping on some delicious Newman's Own Organics coffee brewed in my Keurig while attending and I'd love for you to join in!
FEATURING NELL NEWMAN, PRESIDENT OF NEWMAN'S OWN® ORGANICS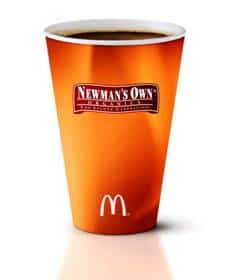 Virtual Coffee Tasting Event: Monday, September 24, 2012 @ 10:00 a.m. EST
Event Link: Livestream.com/VermontLive— I'm embedding it here, too if you'd like to follow along.

Watch live streaming video from
VermontLive
at livestream.com
Follow on Twitter: @McD_CTWMA
Hash tag: #McDCoffeeChat
What Else: The live virtual coffee tasting event will feature Nell Newman, president of Newman's Own Organics along with local McDonald's Owner/Operator Wayne LeBrun and Green Mountain Coffee experts, will cover:
The history of Newman's Own Organics coffee with McDonald's in New England
Behind-the-scenes info and tour of the Green Mountain roasting plant in Vermont
Roasting process and taste of Newman's Own Organics McDonald's blend
As a thank you to our customers, the live webcast coincides with a week of free small Newman's Own Organics coffee at participating McDonald's from September 23-29. National Coffee Day is September 29.
I will update this post with what I learn after the chat!  Also, head over to A Year with Mom and Dad to enter to win a year of FREE coffee! (New England giveaway)
0