Loveable Labels contacted me to see if I'd like to check out their new address labels.  Since I love personalized things, I jumped at the chance (we've had labels of many kinds, but they've all been kid-friendly or kid-related…maybe its time for Mama to have some??).
This is the style I chose: Fancy Nancy Green Labels.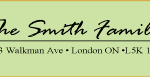 I just loved the color, the font, the overall look when I saw them on the website.  I was even more pleased when they arrived and I've been able to use them (FYI that's not my name nor address up there, in case anyone thinks it is), with zero tearing (I've had address labels that tear) and from what I've heard from mail that was sent with the labels on, no running in case of precipatation getting onto the label.  I'm all about making my own things but whenever I make labels they get wet and run and look a mess.  These just look really nice and really professional.  Definitely my favorite ones I've had to date!
The labels don't come in too many styles but I think the variety offered will suit just about anyone- there's sophisticated, whimsical, romantic and simple, so I think most people will find at least one they like.
We've had other products from Loveable Labels and I've been really happy with them.  I do wish they'd make some more "value pack" type products but I suppose that will come in time.  I really want to get some household labels but not until I make a decision sometime about canisters (that's a post in and of itself).
Loveable Labels has a section of new products with some fun items- Meet Me Cards (like business cards for the pint size crew), zipper tags, shoe tags to help kids learn left from right while keeping their information accessible- and more!!
One of my readers will win a pack of address labels from Loveable Labels!
Mandatory Entry: Tell me which set you'll choose if you win!
Extra Entries:
Like Loveable Labels on Facebook
Follow me on GFC, Facebook, RSS or Email Subscription +1 entry each
Share this giveaway on any social networking site: #Win great personalized address labels from @MyLoveableLabels & @mamatomjr http://wp.me/p1qA6G-14k US & CAN"  (can be done 2x/day at least 1 hour apart on each social network site)
This giveaway will end on April 21, 2011 at midnight, EST.  US & Canada.  Winner to be chosen using "And the Winner is" plugin.  Winner has 48 hours to respond to initial contact or a new winner will be chosen.
I received a sample of this product to facilitate my review.  Opinions expressed within are my own.
0