Thank you to LUNA Protein for providing me a LUNA Protein sample pack to review. The opinions I've expressed here are solely my own and represent my honest viewpoint.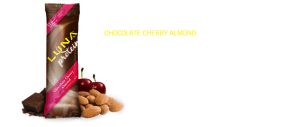 LUNA Protein bars from Clif bars are made just for women- with our needs in mind, and our taste buds too.  The flavors and taste will tempt your children- but they are for us.  Sometimes, it's ok not to share.  A bonus?  They are now all gluten-free.  They are natural, in part organic, and quite honestly taste a lot more like a candy bar than a protein bar!!  Chocolate and flavors mixed together like cookie dough (yes, that's right, I said cookie dough!!), peanut butter, mint chocolate chip or cherry almond- so much chocolatey scrumptiousness in every bite!!     Any good for you product that includes "suspended in soft nougat" deserves a fair shot, right? Chocolate and nougat in under 200 calories, friends.
LUNA Protein is the first high protein bar for women that provides satiation with natural and organic ingredients. In under 200 calories, LUNA Protein offers 12 grams of soy and whey protein and 3 grams of fiber to satisfy hunger. It contains no artificial sweeteners, high fructose corn syrup or trans fats, and no ingredients sourced from genetically modified organisms.
We just spent 3 days with no power, and lost everything in our fridge and freezer.  My diet program foods that were in the freezer are gone, wasted, ruined, along with almost everything else in our fridge and freezer.  This didn't leave me with much for healthier options while we had no power, and temptation was everywhere around me.  I was so busy being excited about my LUNA Protein bars saving me from eating kid snacks that I forgot to take pictures of my bars.  *Blushing*
I'm actually really glad the power was out because I might not have tried the Chocolate Cherry Almond bar otherwise- I don't like to mix fruits with chocolate on a regular basis.  I prefer to keep my food groups separate- but I surprised myself and found that I enjoyed the cherry and almond with the chocolate!  
These tiny bars are great to keep on hand- and WILL be kept on hand- not in my car in warmer months (trust me, they'll melt) but in my bag and in the house- they are delicious and nutritious and at under 200 calories, a GREAT way to fill you up without expending a ton of calories. Perfect for busy women on the go!
FIVE Of my readers will win a sample pack with one each of the LUNA Protein bars plus a bonus treat!



Please click here to learn more about LUNA Protein. I was selected for this sponsorship by the Clever Girls Collective. All opinions are my own. #cleverLUNA